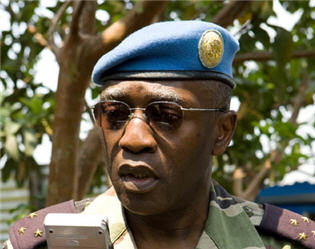 Babacar Gaye
Senior military leaders from the UN Peacekeeping Mission in the Democratic Republic of Congo, MONUC, have been meeting their counterparts in the Congolese Army, the FARDC, to plan Operation Amani Leo.
Amani Leo, which means 'Peace Today', began at the start of the month. The Operation focuses on several key objectives.  The most immediate and top priority is protecting civilian populations with special attention on children and women. It is also aimed at holding territory liberated from armed groups like the FDLR and helping restore State authority.  The Operation will also simultaneously maintain military pressure on the FDLR through targeted interventions to further disrupt the group's command and prevent it from regrouping to threaten populations or re-take territory.

MONUC's Force Commander, Lieutenant General Babacar Gaye, and the Commander of the North Kivu Brigade, Brigadier General Ajae Kumar Sharma, have held a series of meetings with the head of the FARDC's Operation Amani Leo, Major General Dieudonne Amuli, and the Commander of the Operation in North Kivu, Colonel Bobo Kakudji. The two commands discussed implementation of the Joint Operational Directive for Amani Leo, the conditions for MONUC support to the FARDC and how they affect tactical and administrative issues. MONUC Battalion Commanders, FARDC zone and Sector Commanders and many staff officers also took part.

The Special Representative of the Secretary-General for the DRC, Alan Doss, and General Gaye also met with senior MONUC military and civilian staff in Goma to review progress made and lessons learnt during Operation Kimia II which ended on 31 December. Ensuring synergies between military efforts and stabilization efforts, as well as the need to develop a strategy for managing MONUC's progressive downsizing and ultimate withdrawal were also on the agenda.