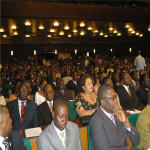 Prime Minister Adolphe Muzito went to the National Assembly on Wednesday to reply to questions raised last week by national MPs. The head of the government said that the security, financial, and economic situations of the country have improved.
While acknowledging that pockets of insecurity still remain, Adolphe Muzito said that the country's security situation was generally good. He also said that improving relations with neighboring countries has played a key role in returning peace to the country.
Nevertheless, the Prime Minister agreed that state workers still face a precarious situation and insisted on uniform pay zones throughout the country.
"Our country no longer faces a war threatening its sovereignty. Nevertheless, it remains in a post-conflict and fragile state. There are still a few pockets of insecurity that the Honorable Members of Parliament rightly, and often with good reason, point to the government's attention."
In his response to the Prime Minister, opposition MP Jean Lucien Bussa said that the government has failed on all fronts. He added that government members were enriching themselves, starting with the Prime Minister. He promised to introduce a motion of no confidence against the government.

Excerpts from Radio Okapi article | On the web: Congo News Agency