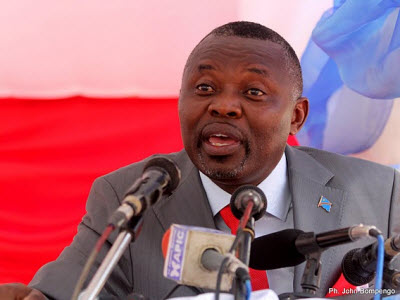 Former Speaker of the National Assembly Vital Kamerhe says President Kabila was not truthful about the state of the country on Wednesday, when he
laid out his plans
for the next five years and touted his record in a speech broadcasted live on national television.
Mr. Kamerhe, who is running as an opposition candidate in the upcoming presidential election, told a news conference in Kinshasa on Friday that, contrary to what President Kabila said, "nothing worked during the last five years."
"The President's record is negative. Problems with the supply of drinking water and electricity are much worse today than they were five years ago. The education system and public transportation are lacking. Human rights are being violated. What about the fate of political prisoners? [Floribert] Chebeya's trial ended without anyone knowing who the real sponsors [of his murder] were," Kamerhe said.
He added that Wednesday's speech, which was attended by members of the president's political family, "was not aimed at our people. Given the context chosen for the speech and the people making up the audience at the farm in Kingakati, I think the head of state was addressing the members of the Presidential Majority."
Asked if he shared any responsibility for the state of the country as a former ally of President Kabila and Speaker of the National Assembly, Kamerhe replied "Disillusioned, I did not wait until I left to qualify the different report cards [of the government] as being negative. Whenever the Prime Minister came to the National Assembly, when I chaired this institution, I told him not to lie to the people and that we were on the wrong track."
Remaining optimistic on the prospects of the main opposition candidates in the November 28 presidential election agreeing to unite behind one candidate, Kamerhe said "We are gradually moving towards uniting the opposition. We will strive to present a joint candidate of the opposition in the presidential election."

On the web: Congo News Agency | Excerpts from Le Potentiel and Radio Okapi articles