L'Avenir | Published on June 03, 2013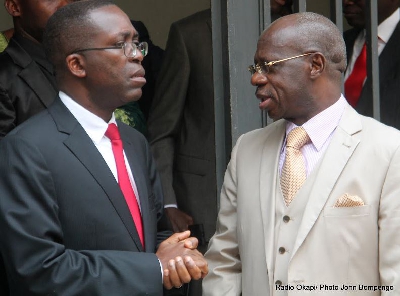 Matata Ponyo meets with the president of the Federation of Congolese Businesses, Albert Yuma, on 8.3.2012 |
Enlarge
Seeking to improve the business climate in DR Congo, Prime Minister Matata Ponyo inaugurated on Wednesday the new one-stop agency for entrepreneurs who want to start a new business.
The head of the new agency, Herady Amisi, said that its offices across the country will streamline the process of creating a new business, which used to take months, to a maximum of 3 business days.
He added that the fees and taxes required to start a new business have also been significantly reduced to the equivalent in Congolese francs of US$ 120 for companies and US$ 40 for individuals.
These fees will cover all the formalities needed before a new business can start operating in DR Congo such as its registration with tax officials, granting of a national identification number, authorization from local officials and publication in the Official Journal of the DRC.
DR Congo is currently ranked 181st out of 185 countries on the World Bank's Doing Business index, which ranks the ease of doing business.
The new agency, called Guichet Unique de Creation d'Entreprise, will operate as part of the Ministry of Justice and Human Rights.
Justice Minister Wivine Mumba Mutipa said that the creation of the new agency showed the determination of President Joseph Kabila and Prime Minister Matata Ponyo to improve the business and investment climate in DR Congo.
Ms. Mutipa invited the staff of the new agency to demonstrate integrity, dynamism and efficiency while performing their duties.

Source: L'Avenir