VOA News | Published on June 24, 2010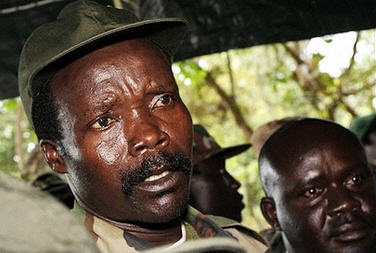 LRA leader Joseph Kony
A new report by the Washington-based, anti-genocide Enough Project says the elusive leader of the Ugandan rebel Lord's Resistance Army was nearly caught last year by the Ugandan army in a remote area of the Central African Republic. But the group says limited assistance from the international community and lack of support from regional governments are hampering the Ugandan army's ability to deal a knock-out blow to the terrorist organization.

The Enough Project says it conducted extensive interviews with eyewitnesses in southeastern Central African Republic, where at least 134 people have been killed and more than 500 others kidnapped by Lord's Resistance Army rebels in the past two-and-a-half years.

The report says in October 2009, the Ugandan army, also known as the UPDF (Ugandan People's Defense Force), sent a team of soldiers, who caught up with a large group of LRA fighters in an area around Central African Republic's border with Congo Kinshasa. The soldiers killed about 25 LRA fighters over several days and captured two women identified as "wives" of the LRA's top leader, Joseph Kony.

A witness in Kony's group claimed the Ugandan soldiers almost caught Kony and killed one of his bodyguards.

The author of the LRA report, Ledio Cakaj, says the incident demonstrates that it is possible to capture one of the most wanted men in the world. But he says the Ugandan army needs far more assistance from countries like the United States to build up its operational capability.

"Support from the U.S. has continued in terms of supplying fuel for the UPDF and some money for logistics. But it is not enough, because they lack things like helicopters and vehicles. They do not have rapid response capacity. So, even when they do hear about an incident happening, it is very hard for them to get there in time. The U.S. has continued to support things like intelligence. But again, if you lack operational capacity on the ground, intelligence cannot really be that useful," Cakaj explained.

LRA leader Joseph Kony has eluded capture since 1987, when the Lord's Resistance Army first began its terror campaign in northern Uganda.

The goal of the rebel group remains undefined. But its activities, including mass murder, abduction, mutilation, and sexual enslavement of children, have devastated parts of Uganda, Central African Republic, eastern Congo, and Sudan. Multiple LRA groups operating in neighboring countries have kept the Ugandan army stretched thin.

Kony and a top lieutenant are wanted by the International Criminal Court on charges of war crimes and crimes against humanity.

In late 2008, the United States gave military support to a regional offensive, led by the Ugandan army, in eastern Congo. But the mission, known as Operation Lightning Thunder, was criticized for its poor execution. It also sparked violent LRA reprisals in Congo as well as in Central African Republic.

Cakaj says he believes it is imperative that regional governments and the United States do not abandon their support for efforts that can help capture Kony. He says the international community needs to engage aggressively in the hunt for the LRA leader and double its commitment to helping innocent civilians.

"The LRA is always going to be there and always going to pose a threat because of their modus operandi. The way they operate is by attacking civilians, by getting their food. But most importantly, they are abducting young men and women and forcing them to fight. So, they have the ability to reconstitute very fast," Cakaj said. "The LRA issue needs to be dealt with in maximum engagement by all of the actors involved because the wishful thinking that it might just go away by itself - that is just not going to happen."

Last month, LRA attacks in southern Sudan resumed, raising fears that Ugandan rebels may be in an alliance with Sudan's government in Khartoum to destabilize the region ahead of next year's referendum on southern independence.

LRA leaders have said the group once received support from the Sudanese government, but they cut ties with Khartoum in 2002.