Forum des As | Published on August 03, 2010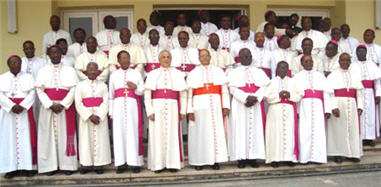 The head of the National Conference of Bishops (CENCO), Bishop Nicolas Djomo, said during a press conference in Kinshasa on Monday that the Catholic Church in the Democratic Republic of Congo is determined to campaign for the recently enacted U.S. law on 'conflict minerals', so that it is applied in the DRC.
Bishop Djomo, who also serves as the Bishop for the diocese of Tshumbe in Kasai Oriental Province, praised the American government, the U.S. House of Representatives, and the U.S. Senate, for passing the provisions on 'conflict minerals' in the DRC, especially in eastern Congo and the Great Lakes region. The exploitation of these minerals, he said, must serve the common good and not harm human dignity.
The Catholic Church in the DRC will make several advocacy actions and contacts with the Congolese government, the Association of Conference of Bishops of Central Africa (ACEAC), the Economic Community of the Great Lakes Countries (ECGLC), the International Conference on the Great Lakes Region (ICGLR), and the Congolese population, to join efforts to build a more beautiful and peaceful Congo, Bishop Djomo said.
The CENCO, through its ad hoc Commission on natural resources (CNR), works with organizations of the United States Conference of Catholic Bishops, such as Catholic Relief Services (CRS), on issues related to the exploitation of natural resources in the DRC, armed conflict, human rights violations, massive displacement of populations, poverty, and the environment.
Bishop Djomo's statement was preceded by statements on the U.S. law from Jennifer George, the representative of the CRS in the DRC, Father Ferdinand, and the first secretary general of CENCO, Donatien Nshole.

on the web: Congo News Agency | Forum des As article