VOA News | Published on September 06, 2010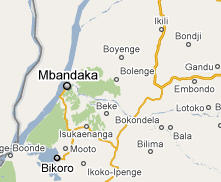 The Minister of Information for the Democratic Republic of Congo said his government is investigating the causes of two separate boat accidents over the weekend that killed at least 24 people with up to 60 others missing.
The worst accident took place Saturday in Kasai Occidental Province, while the other occurred Sunday in Equateur Province.
Information Minister Lambert Mende told VOA his government will pursue and punish those boat operators who, he said, may be breaking the law.
"We had an accident yesterday (Saturday) in the afternoon of a cargo boat in the Kasai River, carrying some small containers of fuel from Chicapa. And, for a reason not yet determined, the containers of fuel caught fire, and this burned the whole cargo boat," he said.
Mende said the government was still trying to figure out the total number of dead, but it was sure the boat was a cargo and not a passenger boat.
"We have not, as we are talking, a figure of the dead. But, we know that it was not a passenger boat. It was a cargo boat, but some people were fraudulently in the boat. We have already rescued 24 people who are not in the town of Chicapa," Mende said.
The Democratic Republic of Congo has large rivers, but only a little more than 300 miles of paved roads. As a result, many Congolese reportedly prefer to travel by boat in spite the danger of an accident.
In July, about 80 people died when a boat ferrying about 200 passengers to the capital Kinshasa capsized after hitting a rock. In November last year, 90 people were killed after a logging boat sank on a lake.
Information Minister Mende said the government does regulate water transport.
"We do have regulation. It is the ministry of transportation, but we do have a lot of rivers. All the country is covered by rivers. We have also people who are breaking the law as anywhere in the world because they are greedy to get money. And, we are making success to pursue and punish those who (are) breaking the law," Mende said.
He said the cargo boat operator had no right to pick up passengers since he was operating a cargo boat.
Mende said the government is questioning those rescued from the waters after the accident to find out how they were able to get onto a cargo boat.
"Only those working in the boat are allowed in the cargo boat, not passengers. So, this is a criminal and we shall deal with him (boat operator) as a criminal," Mende said.
He said 15 years of conflicts have disrupted the government's efforts to rebuild its infrastructure, including a road network.
"How can we build roads when our country is under aggression from the term of 15 years? People are attacking us to loot our goods and our wealth. Our leaders, at that time, didn't have opportunity to build roads. It is just for the last two to three years that we are starting to build infrastructure, roadways and so on," he said.
Mende said it was understandable that, in the absence of roadways, the people would prefer water transport.