ACP | Published on February 22, 2012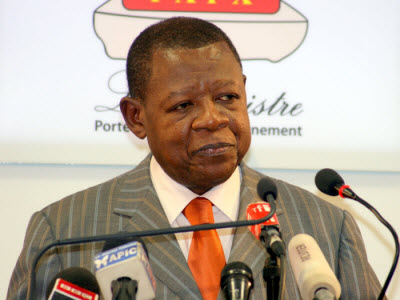 Lambert Mende during a press conference on 1.3.2012 in Kinshasa |
Enlarge
Information Minister Lambert Mende told a news conference on Tuesday that the door for dialogue with opposition leader Etienne Tshisekedi remains open.
"Mr. Tshisekedi is a valid spokesman for the opposition and its most important leader," Mr. Mende said. However, he deplored the fact that Mr. Tshisekedi's party, the UDPS, has asked its newly-elected Members of Parliament to boycott the body or risk being expelled.
Reacting to a call by the United States for an inclusive government in the Democratic Republic of Congo, Mr. Mende, who is also the government spokesman, reiterated President Joseph Kabila's commitment to openness expressed in his inaugural address.
"Mr. Tshisekedi has responded with a categorical refusal, going as far as to ask for the president to be brought to him in handcuffs," Mr. Mende said. He added that, nonetheless, the door for dialogue with the leader of the UDPS is still open.
"Lines of contact still exist. We wait for a willingness to be expressed. Then, contacts could be made," Mr. Mende said, deploring Mr. Tshisekedi's rejection of dialogue. "The country cannot stop working," he warned.
The government spokesman also said that if President Kabila were to appoint Mr. Tshisekedi as the Prime Minister, his allies of the Presidential Majority would have no objection, as long as this contributes to the success of the president's agenda for the Democratic Republic of Congo.

On the web: Congo News Agency