L'Avenir | Published on March 28, 2011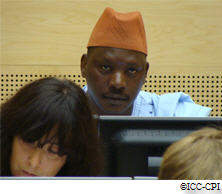 Four former militiamen, who had been arrested and were being held at the Makala prison in Kinshasa, were flown to the International Criminal Court on Sunday to testify as witnesses for the defense in the cases against Thomas Lubanga and Germain Katanga.
Congolese Minister of Justice and Human Rights Luzolo Bambi said in a statement released to the press that the government was sending Pierre-Celestin Mbodina Iribi, Floribert Ndjabu Ngabu, Sharif Manda, and Bede Djokaba Lambi Longa to the Hague, in accordance with the Rome Statute and other agreements of cooperation between the ICC and the DRC.
The prisoners are not being transferred for prosecution and will not be charged by the ICC, even if their testimony leads to self-incrimination, Mr. Bambi said.
Subject to how the trials proceed, they will be flown back to the DRC in mid-May and arrangements have been made to guarantee their security.
Thomas Lubanga is charged with recruiting and using children to fight for his militia in the north-eastern Ituri region of the DRC. His trial, the first held at the ICC, has suffered delays and setbacks for Prosecutor Luis Moreno-Ocampo, amidst controversies on evidence gathering and witness credibility.
Germain Katanga is charged with war crimes in Ituri, including the use of child soldiers and attacks on civilians.

On the web: Congo News Agency | From L'Avenir article