Congo News Agency | Published on September 23, 2011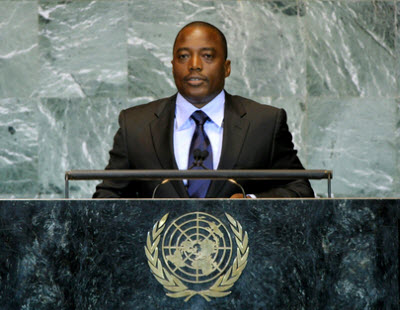 UN Photo/Marco Castro
President Joseph Kabila told the UN General Assembly on Thursday that the Democratic Republic of Congo was going through a pivotal moment in its history with the organization of its second democratic elections, after those of 2006, and the return of peace all throughout the country.
This period marks "a definitive break with the spiral of violence and instability that has characterized recent decades. More than ever, this decisive phase commits the Congolese people to a continuous culture of democracy," he said.
"Despite the multilayered challenges surrounding the electoral process, the Independent National Electoral Commission, our people and their Government are doing everything they can to organize transparent and credible elections in a peaceful climate."
"The elections are proof of the return to peace that all Congolese have wanted and have now realized. Today, peace and security prevail throughout the national territory. All state institutions are in place and functioning normally."
President Kabila told the General Assembly that, "Because peace and security have returned to the country, the UN presence must be reassessed."
MONUSCO's role, he said, must be "readjusted" and the UN mission "must gradually leave the strict confines of peacekeeping operations to support the country in its development efforts and economic recovery."
"Today, the Democratic Republic of Congo is at peace with all its neighbors. And now, it's time for reconstruction and development."
"Despite a difficult international economic environment, the Democratic Republic of Congo today, after a decade in a downturn, shows a positive growth rate. And this trend will continue," President Kabila said.

Read full speech (pdf file in French)