BBC | Published on January 21, 2008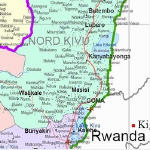 Talks on the future of eastern Democratic Republic of Congo are coming to an end, with a peace agreement expected to be signed on Tuesday.
Mediators at the talks say there is a general agreement between the government and the key rebel leader.
Other armed groups have still to agree and a final declaration needs approval. The deal aims to end months of bloody conflict around the town of Goma, which has driven over 450,000 people from their homes in the last year.
Talks involving the Dr Congo government and more than 20 rebel groups have been under way for more than two weeks and sponsored by the US, the EU and the African Union.
The main rebel movement is led by dissident General Laurent Nkunda, who repulsed a major government offensive last December.
'Historic moment'
The BBC's Lubunga Byaombe at the conference said that delegates were trying to decide whether Gen Nkunda should be integrated into the army or sent into exile.
The draft agreement would establish a technical commission to oversee a permanent ceasefire, a disengagement of troops and the disarmament of the rebels.
On offer is a promise of an amnesty for the rebels, but this would only cover insurrection against the government - not human rights violations.
The government has issued an international arrest warrant against Gen Nkunda, for alleged war crimes committed by his forces.
He says he is defending his Tutsi community against Rwandan Hutu rebels who have been based in eastern DR Congo since the 1994 genocide.
Once signed, United Nations troops would keep the two sides apart, moving into 13 positions vacated by the rebels.
And within a week specialist advisers would fly in from the United States, Britain and Europe, to try to work on the details.
The European Union is promising $150m of aid to reconstruct the region, which has been devastated by the fighting.
"This is increasingly looking like an historic moment for eastern Congo," Anneke van Woudenberg of Human Rights Watch said.
"If the agreement is signed it will be an important foundation for bringing peace and ending the suffering of so many thousands of people."