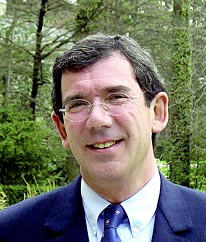 Jean-Maurice Ripert
The U.N. Security Council says Congo's president has a vision for his country that includes improving security through the disarming of rebel groups and holding talks with them to bring lasting peace to his country. Council members met with President Joseph Kabila in Congo Saturday at his presidential palace. VOA's Margaret Besheer has more from the Congolese capital.
Security Council members held an hour-long closed door meeting with President Kabila and senior government officials. Afterwards, France's U.N. Ambassador Jean-Maurice Ripert, who led the delegation, said there are positive signs that the situation is improving in the volatile eastern part of the country. "Our feeling, and the feeling of the president, is that it is improving, because every day you have militias that are surrendering. So the process is giving good signs, and the improvement of the relationship with both Uganda and Rwanda will certainly help."
Congo is still recovering from a five-year long civil war that drew in several neighboring countries - including Uganda and Rwanda -- and killed more than four million people, mostly through disease and starvation.
The United Nations has its largest peacekeeping mission in the country. MONUC, as it is known, has more than 16-thousand troops and an annual budget exceeding one billion dollars. It is mandated to help the government of Congo consolidate gains in the peace process and help disarm local and foreign armed groups operating in Congo.
Ambassador Ripert said it would be some time before the peacekeepers could leave Congo, but that President Kabila has a vision for his country that includes improving security and getting the Rwandan rebels of the FDLR [Democratic Forces for the Liberation of Rwanda] to disarm in compliance with a U.N. Security Council resolution, and pave the way for their gradual drawdown.
Ripert added that President Kabila is committed to the peace process and expressed his willingness to talk to the FDLR to find a lasting peace. "The President is wishing to go all the way down. He has accepted to talk with them -- which is already an important way forward. We are urging the FDLR to disarm, respond to the demand of the Security Council and talk with President Kabila so that there could be a peaceful solution to this very dramatic problem," he said.
Sunday, the Security Council delegation will go to the Ivory Coast, on the final leg of its five-nation tour of African trouble spots, that has included visits to Sudan and Chad.