Human Rights Watch | Published on December 11, 2008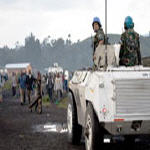 On November 4-5, 2008, an estimated 150 people were killed in the town of Kiwanja in eastern Democratic Republic of Congo, half a mile away from United Nations peacekeeping forces. The event marks one of the worst killing sprees in North Kivu in the past two years. Most of those killed were summarily executed by forces of rebel commander Laurent Nkunda's National Congress for the Defense of the People (CNDP). Others died during combat between Nkunda's forces and the Mai Mai militia, a local armed group that supports the Congolese  government and often fights alongside the national army (Forces Armées de la Republique Démocratique du Congo, FARDC). Mai Mai militia also deliberately killed people.
Following the Kiwanja killings, CNDP and Mai Mai combatants continue to kill, rape, forcibly recruit children, and otherwise mistreat civilians in and around Kiwanja, the neighboring town of Rutshuru, and in areas further north. Human Rights Watch has recorded an additional 18 deliberate killings in November and December perpetrated by the CNDP, the Mai Mai and their allies, and received reports of another 25 deaths, although ongoing insecurity has made it impossible to verify all such information. Human Rights Watch documented the rape of more than 16 women and girls and dozens of children recruited into armed service since late October. A unilateral ceasefire declared by the CNDP on October 29 has proven meaningless in these remote areas where the fighting and the killing go on.
On October 29 Nkunda's CNDP forces took control of Kiwanja and Rutshuru after defeating Congolese army soldiers in a battle south of Kiwanja a day earlier. Once the CNDP took control of the area, they immediately ordered the local population to destroy six camps for displaced people and sites that had housed an estimated 27,000 people. The displaced people then fled to various locations and most still had not been located five weeks after the attack.
During and immediately after the Kiwanja killings, thousands of civilians sought refuge outside the MONUC base. CNDP soldiers and officials have since used threats and intimidation in an effort to force displaced people to return home, even though many did not believe it was safe to do so.
At the time of the killing spree at Kiwanja, the United Nations peacekeeping mission in Congo, MONUC, had 120 peacekeepers in Kiwanja, one of its largest field bases in the area. Due to the importance of these two towns as centers for humanitarian assistance, MONUC considered them a priority protection zone, yet the peacekeepers did not protect the towns from a rebel takeover or halt the destruction of displacement camps. Nor did they stop the mass killing of civilians in Kiwanja where they had an important field base.
MONUC relied on cooperation from the Congolese army. However, Congolese forces proved incapable of protecting the towns and failed to assist MONUC in providing security for the civilian population. The Congolese army's senior officer in the area, Col. Delphin Kahimbi, was openly hostile towards MONUC, inciting local hostility against the peacekeepers, and once even having his troops fire upon UN vehicles. He and other Congolese officers also used MONUC troops to shield Congolese army forces, deliberately putting peacekeepers' lives in danger.
Any possibility that MONUC forces might protect the civilian population on their own was dashed by logistical deficiencies and competing priorities faced by an over-stretched peacekeeping force. On November 4 and 5, MONUC's top priority in Kiwanja became assuring the security of humanitarian workers, a foreign journalist, and a group of military observers, rather than protecting the civilian population. In a situation where numbers of peacekeepers and equipment were inadequate, almost nothing was left to protect Congolese civilians.
While MONUC has attempted to respond more assertively to threats to civilians since the killings in Kiwanja, its primary focus on deterring attacks on the provincial capital Goma and its inability to respond promptly to new threats, has stopped it from being able to prevent ongoing killings, forced recruitment, and new displacements of civilians. The most MONUC could do during the Kiwanja killings-and now-was to offer sanctuary in the immediate vicinity of their base for those most at risk.
MONUC urgently requires additional troops with rapid response capabilities to enhance protection of civilians and prevent future killings. On November 20 the UN Security Council authorized an increase in the number of MONUC forces in the Congo by 3,100-but these troops are likely to take at least four months to be deployed. On December 4, UN Secretary-General Ban Ki-moon wrote to European Union (EU) High Representative Javier Solana, expressing concern about the time needed to deploy new MONUC troops, and requested support and assistance from the EU to provide a short-term "bridging" force.
Human Rights Watch urges the EU to act urgently to deploy a "bridging" force. Signaling that such a force will arrive quickly could help to deter further attacks in the short-term and may contribute to the possible success of the vital diplomatic efforts currently underway. Additional EU troops in Goma would also free up MONUC peacekeepers to strengthen field bases in more remote areas, such as the one in Kiwanja, and to help prevent further atrocities against Congo's long suffering population.