XINHUA | Published on December 12, 2008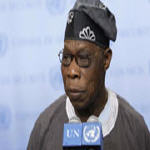 The Talks between the government of the Democratic Republic of Congo (DR Congo) and a main rebel group are making steady progress but have been adjourned until next week, mediators said on Friday.
The Nairobi peace talks which began earlier this week will adjourn until Dec. 17, Olusegun Obasanjo, the UN Special Envoy and former Nigerian president said in a statement.
According to the UN envoy who is tasked with helping to resolve the conflict that has engulfed the east of the vast African nation, the talks are making steady progress towards deal on ground rules.
"I am pleased to note that they are making steady progress towards agreement on the ground rules for substantive discussions," said Obasanjo who is mediating the talks between the government and the National Congress in Defense of the People (CNDP), together with Benjamin Mkapa, former president of Tanzania who is representing the African Union (AU) and the International Conference on the Great Lakes Region (ICGLR).
Obasanjo noted that the two sides have shown "goodwill" during the talks so far. "The delegations engaged in both direct and proximity talks in an atmosphere of goodwill," the statement said.
The statement said a high-level delegation was dispatched on Thursday by the two envoys to meet rebel leader Laurent Nkunda, who heads the CNDP, to discuss issues that have slowed steps forward and have reported a positive response.
The steady progress was reported after the former Nigerian leader warned on Tuesday that an urgent resolution was needed to move the talks forward.
"In reverence for Kenya's Jamhuri Day celebrations (Independence Day) on 12 December, the Mediators, in consultation with the parties, have decided to adjourn and resume the direct talks on 17 December 2008," the statement said.