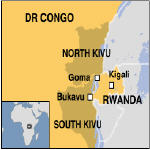 Rwandan and Congolese troops are continuing in the joint operation against the Democratic Force for the Liberation of Rwanda (FDLR) in east Democratic Republic of Congo, United Nations sources confirmed to MISNA, adding that little information is emerging on developments.
"All we can say is that the operations are proceeding. We noticed a significant movement of Congolese and Rwandan troops on various fronts, though we have no news for the moment on fighting between the sides", said to MISNA Jean Paul Dietrich, military spokesman of the UN Mission in DR-Congo (MONUC), specifying that the he could not give independent confirmation on the preliminary toll of nine dead issued by the joint Congolese-Rwandan command and reported by the international media last Friday.
The UN spokesman also stated that there have been no reports of significant movements of people from the areas where the troops are deployed, which could mean that heavy fighting has not taken place. Meanwhile, negotiations were postponed between the government and National Congress for the Defence of the People (CNDP) – the rebel movement headed by the renegade general Laurent Nkunda that after the arrest of the leader appears destined to dissolve – by the UN mediator and former Nigerian president Olusegun Obasanjo.
The mediator added that a new date will be set for talks further ahead, though many believe that the new developments on the ground (arrest of Nkunda and signing of a deal between a part of the CNDP and Congolese government) have rendered negotiations superfluous. A view confirmed also by a meeting held yesterday, in which Congolese government officials discussed procedures for the integration in the national army of former combatants of the CNDP and PARECO (movement formed by Congolese partisans).