VOA News | Published on September 26, 2007
King report (mp3) - Download 362k


Listen to King report (mp3)

A female mountain gorilla has been found dead in eastern Democratic Republic of Congo's Virunga National Park, bringing the death toll of the rare animals to 10 so far this year, wildlife groups said Wednesday. Fighting between the Congolese army and rebels in the region has imperiled the already endangered species. Noel King has more in this report from Kigali.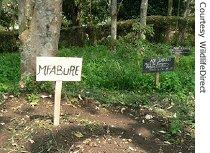 Dead infant gorilla named Mufabure is buried next to other killed gorilla at Rumangabo, headquarters for southern sector of Virunga National Park

A young female gorilla was found dead during a sting operation conducted this week by rangers at Congo 's Virunga National Park on a ring of gorilla traffickers.

Two members of the trafficking ring were arrested.

Conservationists say they believe the trafficking ring intended to sell the gorilla for around $8,000.

Samantha Newport, spokeswoman for conservation advocacy group, WildlifeDirect, spoke to VOA by phone from Goma in eastern Congo.

She said fighting in the region between dissident former general Laurent Nkunda and the Congolese army had chased park rangers from their stations more than three weeks ago.

Since then, rangers have been unable to monitor or track the gorillas.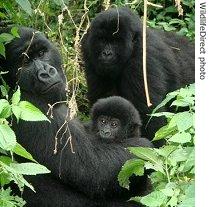 Gorilla family at Virunga National Park in DRC
"All sorts of things could have been going on in the gorilla sector," she said. "It does allow for increased lawlessness in the gorilla sector when there is fighting between the army and the rebels, because the rangers are simply prevented from doing their job."
Newport said instability in eastern Congo has dramatically threatened the population of rare gorillas in the region.
There are only around 700 of the animals left in the wild today living in Congo and neighboring Uganda and Rwanda.
Ten gorillas have been killed in Virunga national park since fighting erupted between forces loyal to Nkunda and the Congolese army. WildlifeDirect says 150 rangers have also been killed in the volatile region in the past 10 years.