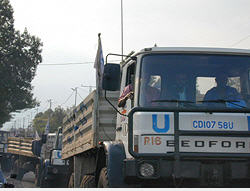 The UN humanitarian affairs has allocated 16 million U.S. dollars to sustain emergency humanitarian activities in the Democratic Republic of the Congo (DRC), through the Central Emergency Response Fund (CERF).
Under-Secretary-General for Humanitarian Affairs and Emergency Relief Coordinator (ERC) John Holmes, who allocated the funds, said the money will be channeled to specific priority projects implemented by the UN and its partners.
The CERF's twice-yearly allocations for underfunded humanitarian crises are based on an analysis of past and current funding levels, and they prioritise the most life-saving activities.
Through this allocation, United Nations agencies in the DRC will receive the second-largest amount in the world, just after Ethiopia with an earmarked amount of 17 million dollars.
"This disbursement is part of 100 million dollars that the ERC has allocated at this time, through a process intended to support underfunded emergency operations in crisis situations around the world," Abdou Dieng, acting Humanitarian Coordinator in DRC said in a statement received in Nairobi on Tuesday.
Humanitarian activities in the DRC are the largest recipient of CERF funding since the Fund was established in 2006, having received approximately 178 million dollars to help humanitarian actors respond to new and ongoing humanitarian emergencies.
"Thanks to this continued support," said Andrea De Domenico, CERF focal point in the war-torn African nation, "millions of children, women, and men had access to safe water -- crucial for their health -- in addition to food, shelter, essential household supplies, health care, and education".
The CERF was established in 2006 to make funding for humanitarian emergencies faster and more equitable.
Since then, more than 115 Member States and private sector donors have contributed approximately 1.9 billion dollars to the Fund, which is managed by the United Nations Office for the Coordination of Humanitarian Affairs (OCHA).
More than 70 countries have benefited from CERF funding since its inception.