lubangatrial.org | Published on February 08, 2010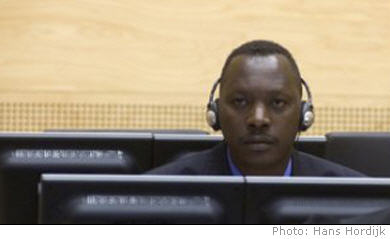 A witness today told the war crimes trial of Thomas Lubanga that intermediaries of the International Criminal Court (ICC) gave him US$200 as payment for convincing his nephew to give false testimony against the accused.
The boy subsequently testified as a prosecution witness and claimed that he was a former child soldier in Lubanga's militia group, according to evidence heard today and last week. The boy's father was the first witness called by the defense, and he told court that his son who never served in any armed group had lied to court that he was a fighter with the Union of Congolese Patriots (UPC), the group Lubanga is alleged to have led. 
Today's witness, who started giving evidence last week, said that for the US$200 he was given, he also had to give ICC officials permission to take x-ray images of the boy to help determine his age. In addition, he had to lie to the court's officials that he knew Lubanga, and that he was aware that UPC had used child soldiers. 
Describing himself as a farmer in the eastern Congolese town of Bunia, the witness told the trial presided over by Judge Adrian Fulford that the ICC officials whom he met during 2007 did not realize that their intermediaries had paid him.
He said he met the ICC officials and their intermediaries on two occasions, in the town of Beni in Ituri province in eastern Congo, and in the country's capital Kinshasa. "They were three white persons, and one black person. The second time it was two white persons and two black persons," he said of the meetings.
Defense counsel Catherine Mabille asked the witness why he told them he knew Lubanga yet in court he said he did not know him.
"I was acting, saying what had been concocted [by the intermediaries]. It was a money issue. The white people didn't know this, but we the blacks knew. I was told what to tell them," he said.
The boy who would later testify as a prosecution witness also met these officials, the witness said. He added that by the time he met the ICC officials, he had already agreed with the intermediaries that the boy would consent to whatever ICC officials requested him to do. 
This witness testified without protective measures such as face and voice recognition, and provided his name to the court. But he gave some of his testimony in closed session. The first defense witness asked for protective measures although at first he had indicated that he would testify in public view.
The evidence given by these first two defense witnesses has supported Mabille's claim that she would provide evidence to show that all witnesses who testified as former child soldiers were bogus, and that intermediaries of the Office of The Prosecutor (OTP) fabricated evidence and coached prosecution witnesses.
Today's witness said while the ICC's intermediaries initially promised that they would relocate him to neighboring Tanzania or move him to another Congolese town, they subsequently threatened to imprison him if he "betrayed" them.
Life had got harder for him when his family and neighbors learnt about his dealings with ICC officials and threatened to harm him, he said. He said his wife deserted their home and he himself fled his house and took refugee in the bush for fear of being attacked.
"People wanted to hurt me, people from my own family," he said. "What we did was not right because we almost sold someone's child… they gave us 200 dollars but that was for food. It wasn't even enough to buy him clothes."
Prosecutor Nicole Samson asked who in his family wanted to harm him.
"Even my big brothers put pressure on me…  I was told that I was selling people, or that I was taking money to betray people," he said.
The witness said he subsequently went to the village chiefs to ask for forgiveness. The chiefs put him in touch with the UPC secretary-general, who then advised him to talk to Lubanga's lawyers.
Samson asked the witness whether UPC officials had paid him money to testify as a defense witness.
 "They categorically said no," the witness replied. "Personally I asked for money and they said no… They said they were not thieves and were not wishing to buy my testimony."