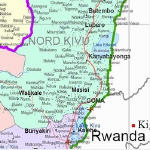 The United Nations estimates 20,000 civilians in eastern Congo have been forced to flee their homes over the past week as violence increases along the volatile border with Uganda.
The latest fighting has scattered people in the Beni region, located in the northernmost part of the Democratic Republic of the Congo's North Kivu province.
This past week, the Congolese Armed forces has been trying to root out the remnants of the Allied Democratic Forces, a Ugandan rebel group that has remained dormant for several years in North Kivu.
The number of displaced is a conservative estimate, warned U.N. spokesman Maurizio Giuliano, adding that actual total may actually be much higher. Giuliano said 14,000 of the displaced have registered with humanitarian organizations responding to the conflict, and at least 2,000 have received official assistance.
Internal displacement is not a new phenomenon in the Democratic Republic of Congo.
Nearly two-million people have been displaced inside the country, and at least one-million others were forced out in 2009, according to the United Nations.
Despite the Congo's long history of internal conflict, the U.N.'s Giuliano said the rapid escalation of the situation in Beni has been particularly alarming.
"That is the shocking thing. It has been happening last week. According to some sources it even happened in one single day. This is what is shocking because that particular territory, Beni Territory, hosted 10,000 internally displaced persons, which had been displaced over a couple of years. Therefore to get 20,000 internally displaced persons in one week is considerable," Giuliano said.
The U.N. is preparing for more displaced persons and Guiliano said the organization's rapid response mechanism is ready to handle another influx.
The Allied Democratic Forces have been operating since 1996 out of the border region near the Rwenzori Mountains of eastern Congo. The group was most active in the late 1990s and was designated a terrorist group by the United States after a string of bombings in Uganda.
The recent reemergence of Allied Democratic Forces coincides with accusations made by the Ugandan government that the group played a role in the twin bombings Sunday that killed 76 people in Kampala.
Somali Islamist group al-Shabab has admitted to carrying out the attacks as retaliation for Ugandan peacekeeping forces in Somalia. The founding members of the Ugandan rebel group included fundamentalist Muslims, but experts say the connection is unlikely and Ugandan officials have not provided evidence linking the two.