ACP | Published on March 06, 2011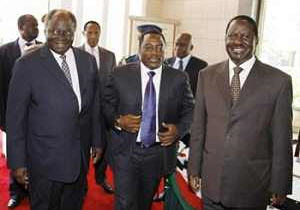 Presidents Joseph Kabila and Mwai Kibaki meet at Harambee House in Nairobi, Kenya
Presidents Joseph Kabila of the Democratic Republic of Congo and Mwai Kibaki of Kenya met on Friday at Harambee House in Nairobi, Kenya, over a "significant amount of gold", estimated to be worth US $113 million, smuggled to Kenya from eastern Congo.
The two leaders, whose countries are members of the International Conference on the Great Lakes Region (ICGLR), have instructed police officials in their respective countries to share information on suspects in this case, as well as commodity traders regularly recorded in the two countries.
They stressed the need to implement the Lusaka and Nairobi Protocols on the management of mineral resources and agreed that the Kenyan authorities should "vigorously" pursue the ongoing investigations to their conclusion.
A Kenya Revenue Authority (KRA) officer investigating the gold smuggling was shot dead at his gate, Police commissioner Matthew Iteere told reporters last Monday in Nairobi.
Presidents Kabila and Kibaki acknowledged that the illegal exploitation of mineral resources has been a source of conflict in eastern DRC. They therefore welcomed the adoption of the Lusaka Protocol, which commits member states of the ICGLR to work together to end the illegal exploitation of mineral resources in the region.
In addition to questions related to the illegal exploitation of mineral resources in the Great Lakes, the two Heads of State expressed their satisfaction with the peace prevailing in the region. They insisted on the need to develop further cooperation in the framework of the ICGLR by capitalizing on the positive results achieved to this day.
Meeting for the second time, President Kabila was accompanied by the Minister of International and Regional Cooperation, Raymond Tshibanda, and the Minister of Mines, Martin Kabwelulu. President Mwai Kibaki was accompanied by Prime Minister Raila Odinga and the Minister of Foreign Affairs, George Saitoti.

On the web: Congo News Agency | From ACP article