Congo News Agency | Published on April 13, 2012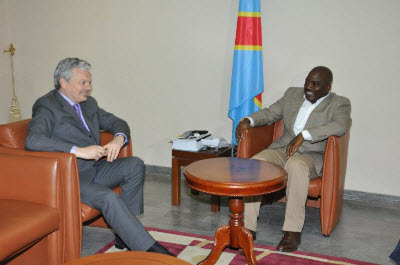 Belgian Foreign Minister Didier Reynders reportedly urged President Kabila to arrest Ntaganda during a meeting in Kinshasa on March 27, 2012 |
Enlarge
Contrary to wire reports widely circulated in the international media, President Joseph Kabila did not call for the immediate arrest of renegade general Bosco Ntaganda during a meeting with civil society leaders in North Kivu Province on Wednesday.
The reports claimed that President Kabila had "called for the arrest" of the former CNDP rebel leader wanted by the International Criminal Court for war crimes he is said to have committed in northeastern DR Congo between 2002 and 2003.
But an analysis of the audio from Wednesday's event, made available by UN-backed Radio Okapi, suggests a more nuanced position that may have been misinterpreted.
Speaking in Swahili, President Kabila said "There is someone called General Bosco Ntaganda who is under an international arrest warrant. I am often asked when visiting this region: Why haven't you transferred Bosco to the ICC yet? I have always given you the same answer. But today, I am going to give you another answer. But my position has not changed yet. With the indiscipline that has occurred here, we do not even need to arrest Bosco Ntaganda and transfer him to the ICC. We can arrest him ourselves. We have more than one hundred reasons to arrest him and put him on trial right here. I am told that the international community's pressure will continue. Look, I do not work for the international community. We work on behalf of our population from all across Congo and North Kivu. Concretely, when it comes to the indiscipline that we came here to solve, if there is any other case, it will give us a reason to arrest any officers, starting with Bosco and all others."
The Congolese government has come under increasing pressure to arrest General Ntaganda after the conviction on March 14 of Thomas Lubanga by the ICC. General Ntaganda was a commander in Thomas Lubanga FPLC militia during the Ituri conflict.
Congolese authorities have previously argued that arresting ex-warlord, who was integrated into the Congolese army in 2009 under a peace deal, may cause more harm than good. He is said to have instigated defections of former rebels from the army fearing an arrest.
The move seems to have misfired as the Congolese army deployed reinforcements to the region. Many of the defectors have since surrendered or been arrested while other are still being pursued.
The fate and whereabouts of General Ntaganda remain unclear. He has not been seen or spoken in public since last week.

Audio: President Kabila's message in Swahili