Radio Okapi | Published on February 12, 2015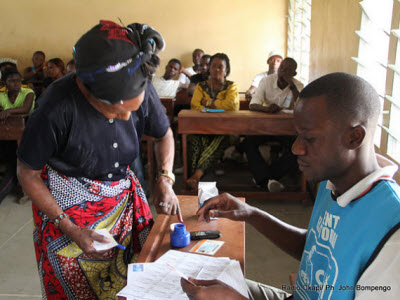 Voting takes place in Kinshasa on 11.28.2011 |
Enlarge
The Independent National Electoral Commission announced on Thursday that presidential and parliamentary elections will be held in DR Congo on November 27, 2016.
The INEC published the complete electoral calendar in Kinshasa before representatives of Congolese public institutions and the international community.
The announcement of the provisional results of the presidential election will take place on December 7, 2016. The final results will be announced on December 17, 2016. The new elected head of state will be sworn in on December 20, 2016.
Also, the INEC announced that provincial, municipal, urban and local elections will take place on October 25, 2015. The results will be announced on 10 December.
Senators will be elected on January 17, 2016 while the election of governors and vice-governors will be held on January 31, 2016.
Shortly before the publication of the overall electoral calendar, the president of the INEC, Abbot Apolinaire Malumalu told Radio Okapi that the organization of these elections would require 1,145,408,680 US dollars.
"After exchanging with the Prime Minister, we have set up a commission that has advanced a comprehensive election budget amounting to $1,145,408,680. Elections are expensive in DRC," Abbot Malumalu said.
He added that the INEC has already agreed with the government on a disbursement plan for the funds for the financing of elections.