UN News | Published on November 11, 2008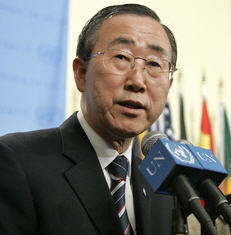 Secretary-General Ban Ki-moon today warned that the perpetrators of recent targeted killings of civilians, looting and rape in the war-torn east of the Democratic Republic of the Congo (DRC) will face justice, as United Nations aid agencies combat the spread of diseases among people uprooted by the conflict.
Recent weeks have seen an escalation in hostilities in North Kivu between Government forces (FARDC) and a rebel militia (CNDP) led by renegade general Laurent Nkunda, resulting in as many as 252,000 displaced Congolese, on top of the existing 800,000 forced from their homes by previous hostilities.
"I want to remind all parties that when the laws of war are violated, personal criminal responsibility may ensue, particularly for those in positions of command and control," Mr. Ban told reporters in New York.
Mr. Ban said he was "somewhat encouraged" by the frank dialogue between the presidents of the DRC and Rwanda, Joseph Kabila and Paul Kagame, at the Nairobi summit last weekend, as well as the declaration urging all groups to observe an immediate ceasefire.
The Secretary-General reiterated the call for a ceasefire to allow humanitarian assistance to reach some 100,000 "increasingly desperate" internally displaced persons (IDPs) cut off by the fighting in Rutshuru and East Masisi, just north of Goma, the capital of North Kivu, and who have not been able to receive any aid.
"Despite the Nairobi declaration, there are continued reports of sporadic fighting," Mr. Ban said.
"First and foremost, we must stabilize the situation on the ground and end this needless violence and suffering. UN agencies are delivering food, medicine, fresh water and sanitation supplies to areas where they can operate, most particularly in Goma."
The UN peacekeeping mission in the DRC (MONUC) has reconfigured its force deployment in response to the spiralling violence and the growing number of IDPs in the east of the country, Under-Secretary-General for Peacekeeping Operations Alain Le Roy told reporters after briefing the Security Council on his trip to the region last week.
MONUC now has the vast majority of its 17,000 troops in the east of the DRC with over half of them stationed in North and South Kivu, which have a combined population of around 10 million people.
"We still consider that although we have almost 10,000 troops in the Kivus, it's still insufficient. It means we have 10 peacekeepers to protect [every] 10,000 civilians in the Kivus," said the Under-Secretary-General.
Mr. Le Roy said that he understood many Security Council members supported the reinforcement of the number of MONUC troops although he noted that it would take a minimum of two months for more troops to arrive on the ground even if the Council agreed to it.
"The troops are authorized to use any means to fulfil the mandate and protect civilians in case of imminent danger. The mandate is very clear," Mr. Le Roy said in response to media questions.
The UN Children's Fund (UNICEF) said it was continuing its vaccination programmes, but there still encounter inaccessible areas, such as Rutshuru. The agency also stressed it is doing everything possible to control a cholera epidemic, and reported that there were still cases of measles among the displaced.
One million water purification tablets and thousands of buckets and plastic tarpaulin sheets are now being packaged for distribution. The water purification tablets will provide clean drinking water to tens of thousands, the buckets will reduce the risk of contamination while carrying the water and the plastic will be used as emergency latrines.
"These supplies will help contain the spread of cholera and diarrhoea, both extremely contagious diseases on the rise in nearly all internally displaced persons' settlements in North Kivu," said UNICEF DRC Representative Pierrette Vu Thi.
Thousands of children have been sleeping out in the open under wet, cold conditions and are at high risk of contracting malaria and respiratory infections, which are the top two killers of children in the DRC. UNICEF is distributing plastic sheets to help provide emergency shelter to the children and their families.
"We are extremely thankful for these supplies and others that will arrive shortly. They are critical to help save and improve the lives of children affected in the conflict," Ms. Vu Thi explained.
The World Health Organization (WHO) said there is an increase in the rate of cholera infections, with at least 1,000 cases reported in North Kivu since the start of October. The agency has requested $2.6 million for the next three months to strengthen disease surveillance, coordinate health interventions, identify and fill health gaps, strengthen health systems and build capacities.
WHO has 60 tons of medicines and other supplies to treat cholera and other diarrhoeal diseases in Uganda, ready for transport to North Kivu. In partnership with UNICEF and local authorities, the agency has started a five-day vaccination drive for 11,000 children aged under-five for measles, providing vitamin A supplementation and de-worming in the Kirotshe area.
With the recent influx of IDPs into the two Kibati camps, on the northern outskirts of Goma, swelling its numbers to 65,000 Congolese, the UN High Commissioner for Refugees (UNHCR) has erected six large portable warehouse tents as temporary shelter for some 1,200 people.
UNHCR has also reported that a plane carrying 36 tons of relief supplies from its emergency stockpile in Dubai has landed in neighbouring Uganda, and some 1,500 bales of plastic sheeting and three pre-fabricated warehouses will be flown to Goma.
The rest of the provisions, comprised of 3,000 jerry cans, 2,650 plastic sheets, 7,500 blankets and 1,500 kitchen sets, will be transported by road from Entebbe, Uganda to Bunia in the DRC. UNHCR has already sent non-food items for some 50,000 people from its regional warehouse in Tanzania by road to the eastern DRC.