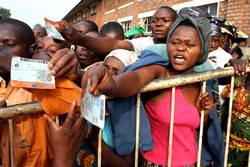 © Tiggy Ridley/IRIN
People queue in an attempt to cast their votes on Sunday at a polling station in Kinshasa, the capital
KINSHASA, 31 Jul 2006 (IRIN) - The Democratic Republic of Congo's first democratic elections since 1960 were held on Sunday for the presidency and parliament but the Independent Electoral Commission (IEC) must now prepare for four more elections between October and January 2007.

"We still have a lot of work to do from now till the beginning of next year," Apollinaire Malumalu, the head of the commission, said on Sunday when he announced the election calendar.

Should no clear winner emerge from Sunday's poll, round two of the presidential election is scheduled for 29 October. Voting for the 11 provincial legislative elections will take place at the same time. On 29 December, another election will be held for a new Senate. Finally, on 16 January 2007, voting will take place for provincial governors and their deputies.

The second round of presidential elections would involve only the two leading candidates from Sunday's first round. Definitive results for that election could still take weeks, Malumalu said.

Some polling stations in the capital, Kinshasa, started posting results for the presidency, with Vice-President and former rebel leader Jean Pierre Bemba ahead of incumbent President Joseph Kabila. In the northeastern town of Bunia and the eastern town of Goma, the top two places seemed to go to Kabila and Azarias Ruberwa, another former rebel leader and vice-president in the transitional government. In Bukavu, capital of the South Kivu Province, the top two candidates appeared to be Kabila and Pierre Pay-Pay, a former governor of the Central Bank. In the town of Mbuji-Mayi, the provincial capital of Kasai Oriental, the top two appeared to be Bemba and Oscar Kashala, a medical doctor who joined politics recently.

Malumalu said Sunday's election would be repeated on Monday in villages and towns in the provinces of Kasia Occidental and Kasai Oriental where angry supporters of long-time opposition leader Étienne Tshisekedi burned down voting stations. Tshisekedi, along with his party, the Union pour la démocratie et le progrès social (UDPS), did not participate in the elections.

Sunday's election had some organisational problems. There was confusion over index numbers created, with election staff often misreading the numbers, telling voters they had already voted when they had not.

Some voters in Kinshasa alleged they had witnessed fraud. People were trying to bribe them to reveal their index numbers, they said.

On Sunday evening, vote counters had not received food and water in the polling stations visited by IRIN in Kinshasa and some protested. International observers said that at one station, vote counters were so exhausted they gave up and went home, leaving ballot papers strewn all over the floor.

Malumalu said the IEC had started inquiries into the allegations and would make the findings public in a week.

A representative of the committee of observers for the European Union said on Monday that it would not give a final verdict on the elections until Wednesday.