VOA News | Published on October 20, 2006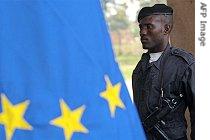 A policeman of UPI (Integrated Police Unit) stands in front of an EU flag on eve of second round presidential election campaign, Oct. 13, 2006

The European Union plans to bring more peacekeeping troops to Kinshasa ahead of Congo's upcoming presidential run-off election.

A spokesman for the EU peacekeeping force in Congo, Thierry Fusalba, says about 200 German and Dutch soldiers will be moved in from Gabon and deployed next week. The soldiers will boost the force's troop level in the Congolese capital to about 1,500

The spokesman says the troops will help the EU force respond more quickly to any outbreaks of violence.

At least 23 people were killed in August in gunbattles between supporters of Congo President Joseph Kabila and his main challenger, Vice President Jean-Pierre Bemba.

The two men face each other in the October 29 run-off vote.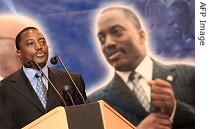 President Joseph Kabila (file photo)
Mr. Kabila won the first round of voting in July with 45 percent - just short of the majority needed to avoid the run-off.
There have been scattered reports of violence around the central African country as round two of the voting draws near.
The EU mission was stationed in Congo to help local forces deal with any major violence related to the elections.
The international community is hoping for a peaceful outcome to the Congo elections. A five-year war that ended in 2002 drew in six neighboring countries, and killed an estimated four million people.