UN News | Published on May 17, 2010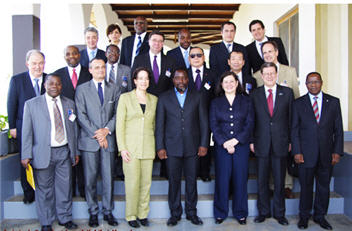 Members of the Security Council have wrapped up what they called an "extremely intense" listening tour in the Democratic Republic of the Congo (DRC) to study options for the future of the United Nations mission there, whose mandate expires at the end of the month.
"We are not here to negotiate and we are not here to talk about withdrawal. We are here to listen to the Government of the Democratic Republic of the Congo," Ambassador Gerard Araud of France said following a meeting with Prime Minister Adolphe Muzito.
The Council delegation, led by France, also met with President Joseph Kabila and leaders of the two chambers of Parliament.
"The mission of the Security Council was to begin a dialogue with the authorities, population and civil society of the Democratic Republic of the Congo over the future of the United Nations presence," Mr. Araud told journalists on Saturday in the capital, Kinshasa.
Noting that substantial progress had been made since deployment of the mission, known as MONUC, in 1999, Mr. Araud added that members "recognize that the situation remains fragile and that therefore any development of the UN presence should be done gently to avoid further instability."
He said that his delegation and the Congolese leadership have agreed to remain open to further discussions on the reconfiguration of the UN presence in the country.
During their discussions with the Congolese leadership, Mr. Araud said that the Council delegation reiterated the UN's support for the ongoing security sector reform and the UN policy of zero-tolerance against impunity.
In addition to Government leaders, the Security Council delegation met MONUC's leadership, the UN Country Team – comprised of UN agencies and programmes active in the country – and members of Congolese civil society.
Secretary-General Ban Ki-moon recommended in his latest report that the 20,000-strong MONUC force begin a drawdown of troops by 30 June. The Government has proposed a total withdrawal of the peacekeeping forces by 30 August 2011.