Radio Okapi | Published on May 04, 2016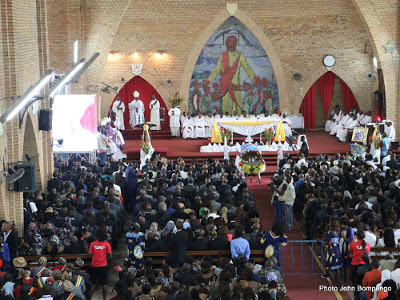 Funeral mass for Papa Wemba in Kinshasa on 5.4.2016 |
Enlarge
Papa Wemba was buried on Wednesday in Kinshasa, after three days of official mourning period.
His remains will be moved in the coming days to a mausoleum being built in his honor, the governor of Kinshasa, Andre Kimbuta, announced during a funeral mass at the Notre Dame of Congo Cathedral.
Mr. Kimbuta thanked President Joseph Kabila, who made available the site where the remains will be kept.
"All my gratitude to the residents of Village Molokai who, with all of Kinshasa, have honored Wemba," said Mr. Kimbuta.
Papa Wemba transformed the heart of the city of Kinshasa in a village called "Village Molokai," said Mr. Kimbuta, adding that "he was himself its undisputed chief and adored leader."
During the mass, Cardinal Laurent Monsengwo extolled the qualities of the deceased Congolese superstar.
"He, Papa Wemba, gave the full measure of what he lived, a work and human qualities of a poor person," said the Archbishop of Kinshasa, adding that "the president was right to raise him posthumously to the rank of Grand Officer of the National Order of national heroes."