IRIN | Published on October 16, 2007
GOMA, 16 October 2007 (IRIN) - Women in eastern Democratic Republic of Congo (DRC) are so familiar with the crude mechanics of sexual violence they have no problem explaining how it works.
  
"One man holds your hands, the other one grabs your legs, and one puts his hand over your mouth," Beatrice Misat, a resident of Mugunga Two camp for displaced Congolese told IRIN. "If you are lucky, they leave you after they rape you."
 
And if not?
 
"They torture you with wooden sticks when they are finished," Misat said. "Then you start bleeding."
 
Rape is a scourge in eastern DRC - a tool of war that poses a constant threat to women and girls.
 
Local residents and observers say the culture of sexual violence took root in the east after the 1994 Rwandan genocide, when an estimated 800,000 Tutsis and moderate Hutus were slain by Hutu militias.
 
Routed by the Tutsi-dominated Rwandan Patriotic Front, the perpetrators of the genocide poured into neighbouring DRC and militia groups mushroomed throughout the region.
 
Amid the proliferation of armed groups, sexual violence became the norm. 
   
Dangerous mix

When fighting between dissident general Laurent Nkunda and the DRC army resumed this month in North Kivu province, women in the region again fled the threat of rape by armed groups. 
 
"When you have an increase of insecurity, an increase of displacement, women are put at risk and more vulnerable to sexual harassment," Patrick Lavand'Homme, head of the UN Office for the Coordination of Humanitarian Affairs (OCHA) in North Kivu told IRIN.
 
"The mix of the military being close to IDPs [internally displaced persons] means the little rule of law that exists completely disappears."
 
What is troubling in eastern Congo is the brutality that often accompanies rape. Women are routinely raped by more than one man, violated in front of their families or tortured after the rape.

"I think it is more a desire to destroy rather than getting any pleasure out of this act," said Angela Kishabagasifa of the UN Population Fund (UNFPA). "It's not about destroying an enemy. It's about destroying women."
 
The UNFPA is conducting sensitisation training at Bulengo camp on the outskirts of North Kivu's capital, Goma.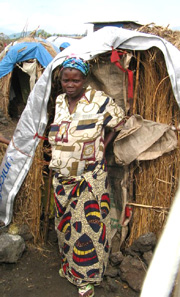 Photo: Noel E. King/IRIN

A displaced woman in front of her hut at Mugunga Two camp - home to 20,000 newly displaced Congolese, outside Goma, North Kivu Province, DRC

 
Bulengo is home to 13,000 displaced people. Kishabagasifa told IRIN she estimated about half the women in the camp had faced sexual violence at some point in their lives.
 
The eldest rape victim Kishabagasifa had seen in two weeks of monitoring Bulengo camp was between 65 and 75 years old. The youngest was four.
 
"There is no age differentiation in the rape," Lavand'Homme said. "Very young girls and even young boys are raped."

Militia groups
 
The sheer numbers of women in eastern Congo affected by gender based violence are so great that UN officials have called it the worst instance of sexual violence in the world.
 
The UN Children's Fund (UNICEF) told IRIN that 18,000 cases of rape were reported in 2006 in three Congolese provinces, including North Kivu.
 
But the real numbers are likely to be much higher.
 
"Not all of the women who have been victimised come forward," Kishabagasifa said. "Women are ashamed to speak about it. Sometimes when we walk around the site, the women will ask us to come quietly into the house. But they think if they go to the health centre they will be suspected of being a rape victim."
 
Militia groups in the region deny perpetrating sexual abuses, but humanitarian workers say all armed groups should be held accountable for sexual violence.
 
Along with Nkunda's National Congress for the People's Defense and the Congolese army, the Hutu Democratic Front for the Liberation of Rwanda and Mayi Mayi militia groups, which are organised along community lines, operate in the region.
 
Nkunda's rebellion began in December 2006, causing an estimated 370,000 people to flee their homes amid clashes between dissident and regular troops.
 
The former general split from the Congolese army in 2004, charging that not enough had been done to rid the region of Hutu militia groups with links to the perpetrators of the Rwandan genocide.
 
And while the situation in eastern Congo remains highly politicised and becomes increasingly complex, women in the region rarely exhibit strong political leanings. Many say they simply want the long-running war to end. 
 
Banza Mazamba is a member of the leadership council at Mugunga Two camp and tells the story of an infant girl named Grace, reiterated by others in the camp, who was ripped from her mother's womb two weeks ago by troops loyal to Nkunda.
 
The baby survived because an elderly woman came upon the scene and has been caring for her.  
 
Asked to explain the behaviour of armed groups in eastern Congo, Mazamba has a simple answer: "These men," she says, "have bad hearts." 

nk/am/mw