XINHUA | Published on February 04, 2009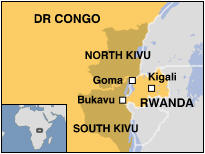 More than 2,000 Hutu refugees from Rwanda in the Democratic Republic of Congo (DR Congo), including civilians and ex-combatants, are ready to return to their home country, authorities announced on Tuesday.
Louis Neonce Muderhua, governor of South Kivu province, said the refugees chose to return after years of sheltering in DR Congo. There were already 200 of them moving toward the frontier on Monday, he added.
A massive number of Rwandan refugees are willing to return to their country on the voluntary basis, Muderhua said, hailing the repatriation as the fruit of the normalization of diplomatic relations between DR Congo and Rwanda.
Officials of the two neighboring countries decided in December to launch a joint operation against the Democratic Forces for the Liberation of Rwanda (FDLR), which is held responsible for the 1994 massacre of 800,000 Tutsis and moderate Hutus in Rwanda.
 The officials also expected the reopening of embassies years after the two countries severed ties amid an exchange of hostilities sparked by rebel activities.
Rwandan troops were invited to join the Congolese army last month against the rebel insurgency, with renegade Tutsi general Laurent Nkunda arrested and part of his battle hardened National Congress in Defense of the People integrated into the government force.
The Congolese-Rwandan operation is going on with a number of FDLR fighters reportedly killed in the jungle.
Nkunda's arrest and the return of Rwandan refugees are relieving Kinshasa of the biggest challenge to stability in the post-election central African country.
 Some of Congolese officials even believe that the exodus of Rwandan refugees will render the FDLR powerless in North and South Kivu provinces where its elements have been holed up since 1994.
President Joseph Kabila expects an end to the joint operation in February, saying Rwandan troops will withdraw within the month.