King report - Download MP3 (445k)


Listen to King report

An estimated 25,000 people on Tuesday fled camps for the displaced in Congo's restive North Kivu province, after fighting erupted between forces loyal to dissident general Laurent Nkunda and the Congolese army. For VOA, Noel King has more in this report from Goma.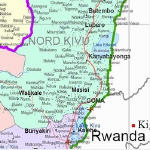 The roads outside Goma, the capital of North Kivu, swelled with fleeing civilians early Tuesday, as clashes between rebels and Congo 's regular army sparked the largest mass population displacement in months.
Aid officials say they fear a deepening of the humanitarian crisis that has seen 370,000 people displaced since fighting erupted between Nkunda loyalists and the army late last year.
"Once again displaced people are getting redisplaced, fleeing for their lives, because they fear for their security," said Aya Shneerson, head of the World Food Program in North and South Kivu Province. "The situation is still very tense."
Impoverished civilians fled the camps with little more than the clothes on their backs.
Some children said they had been separated from their parents in the confusion.
Zawag Karafuru was fleeing with her two young children from the Mugunga Two Camp.
"She says she is running away from Mugunga," said Karafuru. "This morning she heard shooting and realized the rebels were coming. She says she ran for her life."
Congo accused Nkunda of attacking an army post nearby the camps early Tuesday.
But the rebel general denied that his forces were responsible for the attack, Reuters news agency reported.
Nkunda, an ethnic Tutsi, says he is trying to protect Congo's Tutsi population from attacks by Hutu militias who have links to the perpetrators of the Rwandan genocide.
Nkunda has accused Congo's weakened national army of collaborating with the militias on some military operations.
Last weekend Congo and Rwanda signed an unprecedented joint agreement in which Congo agreed to take steps to disarm the militias.
Rwanda wants those known to have committed genocide repatriated to stand trial for war crimes.