UN News | Published on November 20, 2008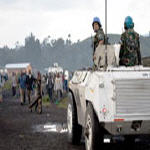 The Security Council today authorized a temporary increase of more than 3,000 blue helmets serving with the United Nations peacekeeping mission in the Democratic Republic of the Congo (DRC) to deal with the violence in the country's east, which has displaced an estimated 250,000 civilians in recent months.
The extra 2,785 troops and 300 police officers will buttress the 17,000 uniformed personnel already serving with the mission (known as MONUC), the largest UN force worldwide but one faced with the task of quelling unrest and protecting civilians in one of Africa's largest countries.
Council members voted unanimously this morning for a resolution authorizing the extra numbers following a request from Secretary-General Ban Ki-moon who, along with other senior UN officials, has said that existing troop numbers in MONUC are inadequate to deal with the scale of the fighting and unrest.
The resolution authorizes the extra troops and police officers until 31 December, adding that the duration of the stay depends on the security situation in DRC's North Kivu and South Kivu provinces.
MONUC is especially active in North Kivu, which borders Rwanda and has been the scene of fierce fighting in recent weeks between Congolese military forces (FARDC) and a rebel militia known as the CNDP, which is led by renegade army general Laurent Nkunda. Other militia groups, including the Mayi-Mayi, have also been involved in clashes, some of which have been along ethnic lines.
The fighting has forced hundreds of thousands of locals to flee their homes, and UN aid agencies and non-governmental organizations (NGOs) have been working to provide relief to civilians.
Mr. Ban's Special Envoy on the issue, the former Nigerian president Olusegun Obasanjo, has held talks over the past week with Mr. Nkunda and regional leaders, including DRC President Joseph Kabila, to try to devise a political solution to the conflict.
MONUC reports today that the security situation in North Kivu is relatively calm, with CNDP forces withdrawing from previously held positions, in line with a declaration issued yesterday.
At the same time, however, MONUC blue helmets came under fire from Mayi Mayi armed groups near the town of Rutshuru, although there were no casualties.
The mission's Force Commander, General Babacar Gaye, has concluded a two-day visit to the region around Goma, the capital of North Kivu.
He said UN peacekeepers lived up to their mandate during the recent fighting and he was proud to note that they evacuated several wounded FARDC soldiers from the front lines and ensured they received appropriate care in either UN hospitals or the state medical facilities in Goma.