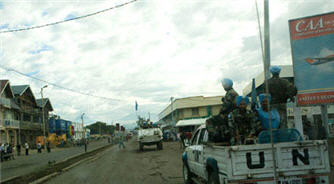 The United Nations peacekeeping mission in the Democratic Republic of the Congo (DRC) has extended an olive branch to the ethnic Rwandan Hutu militia involved in armed conflict in the east of the country, urging combatants to hand in their weapons and repatriate.
The UN mission in DRC, known by its French acronym MONUC, reiterated that militiamen forming the Forces Démocratiques pour la Libération du Rwanda (FDLR) are still welcome to join its voluntary disarmament, demobilization, repatriation, reintegration and rehabilitation (DDRRR) programme.
?Combatants must know that the doors of all MONUC bases are wide open to them and their dependents,? stressed MONUC's DDRRR Chief Bruno Donat, despite the ongoing joint DRC/Rwanda military offensive targeting FDLR troops in the east.
?They should also know that we have strengthened our DDRRR team's presence on the ground to accommodate them,? Mr. Donat added at a press conference held over the weekend at MONUC's eastern headquarters in Goma, the capital of North Kivu.
MONUC currently has bases in Rutshuru, Masisi, Nyabiondo, Walikale, Kanyabayonga Ngungu Lubero, Beni and Goma, which are all in North Kivu.
And in the province of South Kivu, it has bases in Bukavu, Bunyakiri, Uvira and Baraka to receive members of the FDLR, which has been in eastern DRC since the Rwandan genocide in 1994, and their families.
Mr. Donat said that he was encouraged by the growing numbers of combatants and their dependents who have joined the DDRRR process, which has doubled in the last ten days.
The FDLR has been involved in the flare-up of clashes since late August mostly in North Kivu, where the Congolese national army (FARDC), the mainly Tutsi militia ? known as the CNDP ? and other rebel groups such as the Mai Mai have fought in shifting alliances, uprooting around 250,000 civilians on top of the 800,000 already displaced by violence in recent years.