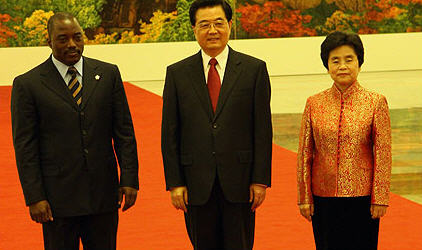 Government spokesman of the Democratic Republic of Congo (DRC) Lambert Mende said in an exclusive interview with Xinhua that China's collaboration with DRC in such fields as infrastructure and education are beneficial to the Congolese people and the DRC government is satisfied with Sino-Congolese cooperation.
Mende, also the Minister of Communications and Media, said the DRC government has set projects in five areas, namely infrastructure, education, energy, medical care and public housing, as priorities on the government's agenda. The cooperation with China has yielded tangible fruits in the above-mentioned fields, he noted.
"The cooperation with China has brought for the Congolese people lots of benefits in such areas as infrastructure building and education," he said.
The minister and government spokesman mentioned that Sino-Congolese cooperation has enjoyed a long history. China has built several important infrastructure projects for the country, including the DRC's biggest stadium in capital Kinshasa and the National Assembly building.
"We cherish the friendly relations with China, and our cooperation is truly the cooperation between equal partners," he said.
Mende said China and the DRC are complementary in many aspects, and China's cooperation can help the African nation tap into its rich resources and turn these resources into real profits for the government and its people.
Talking about the role of the UN mission in DR Congo, Mende said the troops have helped a lot for boosting stability in the country. He expressed satisfaction about plans to increase the mission from the current level of 17,000 troops to 20,000.
However, the minister and government spokesman suggested that the troop deployment could be more concentrated in the eastern part of the country so as to better deal with the conflicts there.
"China has sent over 200 sappers, medical personnel and observers to the mission, making contributions both to the region's stability and the local people," Mende noted.
The minister and government spokesman noted that although some Western countries and international organizations are trying to add pressure on DRC-China cooperation, the Congolese government will stick to the mutual beneficial cooperation as China and the DRC are equal partners.
 "Our cooperation is not the kind of master-servant relations that some countries had with their colonies, but is between equal partner," Mende said.
He reiterated the government's determination to maintain good relations with China and advised the Chinese side to step up cooperation projects so as to boost the African nation's development.