VOA News | Published on November 10, 2006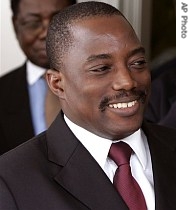 President Joseph Kabila

The Democratic Republic of Congo's president, Joseph Kabila, has retained his lead in new partial results from last month's presidential run-off.

The results issued Friday by Congo's electoral commission show Mr. Kabila with nearly 61 percent of the vote. The figures show Vice President and former rebel leader Jean Pierre Bemba trailing with nearly 40 percent.

The commission says about two-thirds of the votes from the October 29 run-off have been tallied.

Counting votes has raised tension in Kinshasa, where Mr. Kabila's and Mr. Bemba's security forces battled for three days after first-round election results were announced in August.

Bemba supporters held a small protest in the capital today, burning tires and setting fire to a picture of Mr. Kabila before police dispersed them. Bemba supporters have complained of alleged cheating in the vote count.

On Thursday, Congo's main opposition coalition said its count differs from the electoral commission's results. Electoral officials have said they will investigate the complaint.

This run-off was the final stage of elections intended to restore stability to Congo after a six-year civil war that dragged in six neighboring countries and led to the deaths of some four million people.

The elections were the DRC's first open, multi-party elections in more than 40 years.

The electoral commission says it expects to release complete results by November 19. The results must be verified by Congo's Supreme Court.

Some information for this report was provided by AFP and AP.