VOA News | Published on January 04, 2007
Rwanda says it is hosting talks between the Democratic Republic of Congo's government and renegade Congolese General Laurent Nkunda.
A Rwandan military spokesman, Major Jill Rutaremara, told reporters Wednesday that DRC officials and representatives for General Nkunda have met in the Rwandan capital, Kigali.
The spokesman refused to give details but said the meeting was positive.
Troops loyal to Nkunda have been battling government soldiers in Congo's North Kivu province for the last couple of years. Nkunda launched the rebellion in late 2004, saying he was trying to protect fellow Tutsis.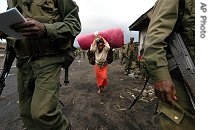 A woman flees to escape fighting between UN-backed government forces and renegade troops in village of Sake in eastern Congo, 28 Nov 2006

Officials say the unrest has displaced thousands of local residents.

Congo is struggling to rebuild following a civil war in which some four million people died, mostly from hunger and disease.

Rwanda was one of several countries that sent troops into Congo during the conflict.

Violence has continued in eastern Congo despite a 2003 peace deal that ended the war.

The United Nations has about 17,000 troops in Congo to assist the government and maintain stability.

Some information for this report was provided by Reuters.