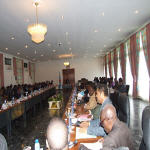 President Joseph Kabila has carried-out a long-awaited government reshuffle aimed at improving performance and good governance. Adolphe Muzito has been reappointed as Prime Minister, Francois Joseph Nzanga Mobutu will also stay on as Deputy Prime Minister and Minister of Employment, Labor and Welfare.
By retaining both Adolphe Muzito and Nzanga Mobutu, Joseph Kabila keeps intact a political alliance struck before the second round of the 2006 presidential elections between the People's Party for Reconstruction and Democracy (PPRD), the Unified Lumumbist Party (PALU) and the Union of Mobutist Democrats (UDEMO).
The government has been trimmed down from 54 members to 43. Alexis Thambwe Mwamba stays on a Foreign Minister, Raymond Tshibanda as Minister of International and Regional Cooperation, Charles Mwando Simba as Minister of National Defense and Veterans Affairs, and Lambert Mende as Minister of Communication and Government spokesman.
Former Finance Minister Atanase Matenda was replaced by Matata Ponyo Mapon. Olivier Kamitatu retains the Ministry of Planing while Celestin Mbuyu becomes new Oil Minister. The new government was announced on state television on Friday night.
President Kabila also reshuffled his cabinet. Former Infrastructure Minister Pierre Lumbi was appointed Special Adviser on National Security and Gustave Beya as new Chief of Staff.

On the web: Congo News Agency