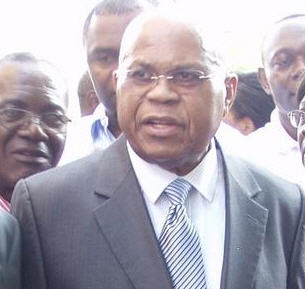 Etienne Tshisekedi wa Mulumba, national president of the Union for Democracy and Social Progress (UDPS), announced on Wednesday his candidacy for president in next year's elections. "Now that I am healthy again, I want to reorganize my party and put it into battle mode. So that, tomorrow, it may be able to run the country," he said during a press conference in Brussels, Belgium.
He also said that the UDPS will hold its first congress this year in December. He invited "all those who want change" to take part in the event planned for December 10 to 14 in Kinshasa. "Everyone is welcome, because the situation of our country is such that no one person can cope with it alone."
Tshisekedi, who has been recovering from illness for nearly two years, says the UDPS intends to participate in the upcoming elections "at all levels", because of the overall situation of the country.
He said he doesn't think opposition parties should consult in advance to try to limit the number of candidates who should run for president. "We believe it is more democratic that everyone be on the ballot for the first round, so that the strongest candidates can face each other during the second round," Tshisekedi said.
Tshisekedi said that the government and some political parties colluded during the Inter-Congolese dialogue in Sun City, South Africa, in 2002, to prevent the UDPS from holding one of the four vice-president posts created after the peace accords were signed.
"During the campaign, I'll be more than a pastor. I will teach goodness and love of thy neighbor, because today, when someone holds a position, he only sees his own pockets and his bank account. We must teach the common interest," Tshisekedi said in response to a question about his upcoming campaign.
On the situation in eastern Congo, he said that, in order to solve the problem of the continuing insecurity prevailing in this part of the country, we must first get "our own house in order and, little by little, order will prevail elsewhere."
Tshisekedi also thinks it is important to carry a census of the population. He called for the application of the "original constitution", which states that "the Congolese nationality is one and exclusive," rejecting the idea of allowing dual nationality.
Citing his health, Mr. Tshisekedi, still tired after his long illness, admitted he cannot say that all is well. He said he fears "a possible relapse."

On the web: Congo News Agency | ACP article