IRIN | Published on October 28, 2010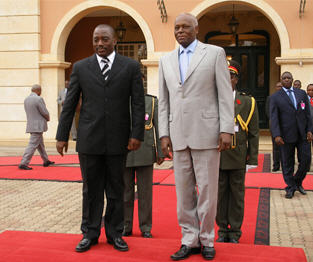 Angola's "very violent" expulsion of about 200 Democratic Republic of Congo nationals from its territory this month is a sign of the increasing "bad blood" between the neighbours that analysts believe revolves around border demarcations and conflicting claims to resources, particularly oil.
The UN Office for the Coordination of Humanitarian Affairs (OCHA) said in a 25 October bulletin that according to local humanitarian actors in the region: "The conditions under which this expulsion took place were very violent, with 30 women being continually raped and men tortured. Two men are reported killed and one woman, 27 years old, allegedly died after being violently raped."
According to reports, the incidents began earlier this month when at least 30 women were detained by Angolan authorities in "dungeon-like structures" and repeatedly raped over a two-week period. Most of the women were naked when they arrived in the DRC after their release.
More than 150 Congolese were deported to the Tembo area, in the south-western part of the DRC Bandundu Province, and another 40 Congolese nationals were expelled to Kasongo-Lunda, also in Bandundu Province, the UN agency said.
Although their number is still small, [a] new wave of expulsions between the two countries is possible
"Although their number is still small, [a] new wave of expulsions between the two countries is possible," Maurizio Giuliano, OCHA spokesperson in the DRC, told IRIN.
In 2009, 18,000 DRC nationals were expelled from Angola and 39,000 Angolan nationals from the DRC.
A joint communiqué issued by the two governments on 13 October 2009 agreed to "immediately stop the expulsions of citizens of their respective states", and added that the two countries regretted the "recent migratory incidents".
A history of expulsions
Before the 2009 evictions, there were about six major waves of expulsions since 2003, in which 140,000 Congolese were deported from Angola, according to OCHA.
The DRC became a haven for thousands of Angolans during its 30-year civil war, which ended in 2002; more than 111,000 Angolans were still living in the neighbouring state before August 2009, while Angola's alluvial diamond fields have attracted thousands of "undocumented" Congolese migrants over the years.
Relations between the two countries rapidly improved after Mobutu Sese Seko, the former president of the then Zaire, was deposed in 1997 and Angola became a strong diplomatic and military supporter of DRC President Laurent Kabila - who was assassinated in 2001 - and his son and successor Joseph.
Joseph Kabila visited the Angolan capital Luanda and had a 45-minute meeting with his counterpart President Jose Eduardo dos Santos in September 2010 on greater cooperation between the two resource-rich countries, according to reports by the Angolan Press Agency.
Border tensions
Henri Boshoff, a security analyst with the Pretoria-based think-tank, the Institute for Security Studies, told IRIN there was "bad blood between the two" regarding border delineations and a belief that Angola had not been adequately rewarded for its support of Kabila over the years.
The DRC's 10,730km border is shared with nine other countries, the longest of which, 2,511km, is with Angola, and this also includes a 225km stretch along the disputed province of Cabinda, which has claims to independence.
Petrus de Kock, a senior researcher at the South African Institute of International Affairs, said in an August 2010 policy brief The DRC at 50: Confronting the Challenges of Peace and Territorial Consolidation: "It is becoming clear that the significant oil and natural gas deposits located in territories where the DRC shares borders with Uganda, Rwanda, Burundi and Tanzania (especially in the Lake Albert, Lake Kivu and Lake Tanganyika areas) are causing these locations to fast become potential flashpoints in regional relations."
A sliver of the DRC along the Congo River, which provides access to the sea and also resource claims - such as oil - is seen as a source of disagreement with Angola.
"Tensions are mounting due to claims that companies active in Angola's oil sector may have been illegally drilling and exploiting oil reserves in DRC territory," De Kock said.