Radio Okapi | Published on March 26, 2011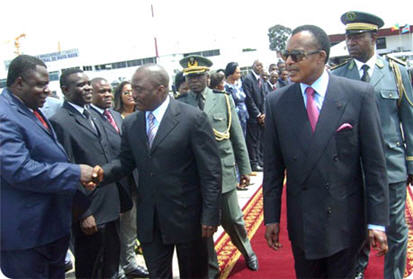 The Democratic Republic of Congo has withdrawn its envoy to the Republic of Congo, authorities in Kinshasa announced on Friday.
The DRC's Minister of Foreign Affairs, Alexis Thambwe Mwamba, said in a statement that ambassador Esther Kirongozi will leave Brazzaville immediately. He did not give the reason for the recall.
Relations between Kinshasa and Brazzavillle have become strained recently due to Congo-Brazzaville's refusal to extradite Mr. Udjani and General Faustin Munene, two DR Congo citizens being held after fleeing to the Republic of Congo.
Mr. Udjani was the leader of an insurrection in 2010 in Equateur province by Enyele rebels.
On March 4, General Faustin Munene was sentenced in absentia by a military court to life imprisonment for fomenting a rebellion in Bas-Congo province.
The DRC's government has said that the armed men who attacked President Joseph Kabila's residence in February had come from Brazzaville. Sources in the DRC's Ministry of Foreign Affairs have said that the investigation in the attack has linked the assailants to General Munene.
Congo-Brazzaville President Dennis Sassou Nguesso told Jeune Afrique earlier this month that his country will not hand over General Munene to Congo-Kinshasa, citing the extradition of Pierre Mulele in 1968 that resulted in his execution.
The DRC has repeatedly asked for the extradition of Mr. Udjani and General Munene. On March 9 and 10, a meeting in Kinshasa of a joint commission on security and defense failed to resolve the issue. Delegates from Congo-Brazzaville reiterated their country's position not to extradite the two men.

On the web: Congo News Agency | From Radio Okapi article