Radio Okapi | Published on October 30, 2011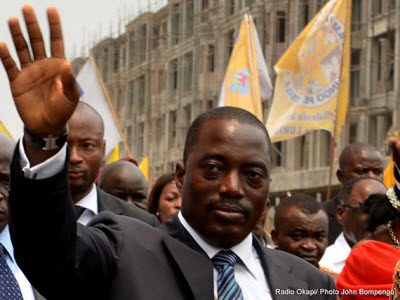 President Joseph Kabila walks with supporters in Kinshasa on September 11, 2011, as he goes to register his candidacy. |
Enlarge
President Joseph Kabila launched his re-election campaign in Kindu, Maniema Province, on Sunday. Thousands of supporters welcomed the incumbent president in the eastern Congo city and followed him as he walked 5 kilometers from the airport to the town center to give a speech.
In his address, President Kabila asked his audience to vote for him in the November 28 presidential election.
He acknowledged that the province is still in the process of rebuilding. He promised to build a modern stadium, add a faculty of Medicine to the University of Kindu and housing for its students.
President Kabila told his audience that building a damn at the Kamimbi fall to boost the supply of electricity to the city of Kindu, which is often subjected to power cuts, remains one of his priorities.
During his stay, President Kabila will also attend the inauguration of new buildings for the faculties of Law and Agronomy at the University of Kindu.

On the web: Congo News Agency | Radio Okapi article