BBC News | Published on November 29, 2007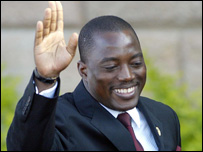 President Kabila's government has suspended some mining contracts
A major international donor conference for the Democratic Republic of Congo is being held in Paris.
It is the first opportunity for the international community to pledge aid for the country since 2006 polls that confirmed Joseph Kabila as president.
There is no doubting DR Congo's desperate need for investment.
No sooner does one leave the capital, Kinshasa, than roads turn from tarmac to mud and there are few modern facilities.
Years of conflict have left most of its people desperately poor.
The Paris meeting is a chance for donors to meet these needs.
Black hole of corruption
Human rights organisation Global Witness warns that unless donors speak out against corruption and the looting of state assets, it would be like pouring money into a black hole.
The head of the World Bank office in DR Congo, Jean-Michel Happi, told the BBC he believes these concerns will be addressed.
"We are confident because it is a firm commitment of this government to go forward in this direction and secondly, the donors have put progress in the good governance compact as an important milestone of their assistance programme."
A key area to watch will be the minerals sector.
DR Congo's mines are among the richest in the world, but Global Witness says there is real concern about how some of the contracts were granted.
It has called on the government to cancel contracts which are found have been illegally awarded.