Bilateral meeting held between DRC and Ugandan Defence Ministers

MONUC | Published on January 31, 2008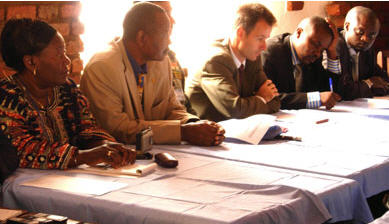 ©MONUC

As a follow up of the Ngurdoto-Tanzania Agreement signed on 8 September 2007, between H.E President Yoweri Museveni of the Republic of Uganda and H.E President Joseph Kabila of the Democratic Republic of the Congo, and the decisions of the Fifth Session of the Uganda-DRC Joint Permanent Commission (JPC), the Ministerial meeting on Defence and security of the two countries, was held on 28-30 January 2008 in Beni, DRC.

The meeting was chaired by Hon Chikez Diemu, Minister of Defence of the DRC, who led the Congolese delegation. The Ugandan delegation was led by Hon Dr Crispus Kiyonga, Minister of Defence. The meeting was attended by the two countries' senior civil, military and security officials as well as representatives of MONUC.

The Ministers reaffirmed the existence of negative forces (ADF/NALU, LRA, PRA, CNDP and Mai-Mai in DRC and pointed out that their existence clearly undermined regional peace and security.

The parties underscored the issue of peace and security in the Great Lakes Region as a prerequisite for economic development and stability amongst our sister countries. They renewed their countries' determination to deal with the threat posed by the negative forces.

The parties further reiterated the resolutions/directives of the Ngurdoto-Tanzania Summit, the Addis Ababa Summit of the Tripartite Plus, the Pact on Security, Stability and Development in the Great Lakes Region signed in December 2006 in Nairobi and the Fifth Session of the Uganda-DRC Joint Permanent Commission (JPC) meeting held in Kampala in December 2007.

The parties further agreed to refocus themselves on the provisions that clearly deal with defence and security issues as reflected in the above-mentioned meetings and Agreements.