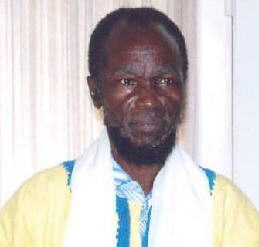 BDK leader - Ne Muanda Nsemi
The Democratic Republic of Congo has banned a separatist religious sect in the west of the country following a bloody crackdown on the group.
President Joseph Kabila's government withdrew recognition of Bundu dia Kongo (BDK) as a non-profit organisation.
Since late February, police have hit BDK strongholds in Bas-Congo to hunt down its militants, leaving more than 20 dead, according to the government.
But UN sources put the death toll at about 70, with hundreds missing.
A religious and political group with its own militia, BDK (the People of Congo) accuses the central government of corruption and is trying to set up its own authority in the west.
Its militants are said to possess few firearms and use machetes, believing magical powers will protect them.
"Taking into account their behaviour, that they have not built schools, that they don't have a social activity, it was time to repeal this authorisation," Godefroid Mayobo, a government special minister, told Reuters news agency.
He said the immunity from prosecution of BDK leader Ne Muanda Nsemi, who is an elected member of parliament, may also be revoked.
A UN internal report, leaked to the BBC, said last week that some 300 BDK members are missing after the security forces' recent offensive in the region around the river port of Matadi.