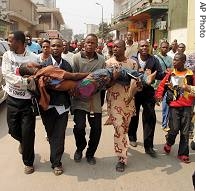 Congolese protester Samba Patou is carried to a hospital by other protesters after being beaten by police during a demonstration in Kinshasa, July 11, 2006

Riot police fired tear gas and stun grenades to break up a protest in the middle of the Democratic Republic of Congo's capital. The demonstration had been called by more than half of the 33 presidential candidates for the upcoming July 30 elections.
The candidates issued leaflets saying the printing of millions of excess ballot papers was an attempt to rig the election and they should be destroyed to ensure a transparent poll.
Demonstrators chanted insults about incumbent President Joseph Kabila as well as the international community, which is supporting Congo's peace process. Many Congolese accuse the international community of having already decided that Mr. Kabila should remain in charge.
The trouble began with several hours of cat and mouse skirmishes, during which protesters tried to gather on Kinshasa's main boulevard and were chased away by riot police.
But after hundreds of protesters managed to link up and bring the middle of the city to a standstill, Congolese riot police weighed in, firing tear gas and stun grenades before chasing demonstrators down side streets.
About 10 demonstrators were injured when police beat them with batons. Several others, including a journalist covering the demonstrations, were knocked unconscious by the stun grenades and tear gas.
There were also unconfirmed reports of one death. But the police denied this, saying only that 10 officers had been injured by protesters throwing stones.
The demonstration is the second in two weeks and highlights the escalating tensions before an election that has been described as the most complicated the United Nations has been involved with.
The July 30 elections are meant to draw a line under a decade of war and chaos, but fighting continues in the east where rebel groups still operate and thousands of civilians continue to die every month, mostly from war related hunger and disease.