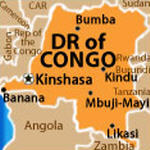 21 July 2006 - Expressing concern over reports of political repression in the lead-up to the historic elections in the Democratic Republic of the Congo (DRC) planned for 30 July, United Nations Secretary-General Kofi Annan today urged all Congolese, and especially the candidates, to ensure that the electoral process is free, fair and open.
"It is vital for the country's future that these elections, which are a symbol of hope for the whole of Africa, should be credible and transparent," Mr. Annan said through a statement released by his spokesperson.
Welcoming the great strides made by the Congolese authorities, with the support of the international community, in preparing for the country's first democratic elections in over 45 years, he noted with concern some reports of harassment, violence around campaign events, and unequal access to the media.
"History will pass a severe judgement on anyone who tries to disrupt or otherwise undermine the elections," he said.
Through the statement, Mr. Annan also reaffirmed that the UN will continue its support for the conduct of the elections, which constitute the largest and most complex electoral-assistance mission ever undertaken by the Organization.
With those elections only nine days away, Mr. Annan's Special Representative in the DRC, William Swing, met today in the country's capital Kinshasa with former President Joaquim Chissano of Mozambique, who will be a member of a formal group of influential political leaders set up to advise UN and Congolese officials on the polling.
The electoral contest, made possible by a new electoral law adopted in March, has drawn 33 candidates for president and more than 9,700 candidates for the 500-seat National Assembly, requiring 53,000 voting stations on election day, the UN Development Programme (UNDP) said today in a review of its support to the vote as part of a $432 million joint initiative with the UN Mission in the Democratic Republic of Congo (MONUC).
"These elections are critical for stability in the DRC and in all of Central Africa," said Babacar Cisse, UNDP Country Director. "Things will not change overnight. This is a country which requires the ongoing and active support of the international community."
Previewing a report on the DRC to be released on Monday, the UN Children's Fund (UNICEF) said today that the nearly decade-old conflict in the DRC has claimed more lives in every six-month period than the 2004 Indian Ocean tsunami, placing the total death toll upward of 4 million fatalities.
The report, entitled Child Alert: DRC, describes the effects of the conflict on children and their families.