BBC News | Published on April 30, 2010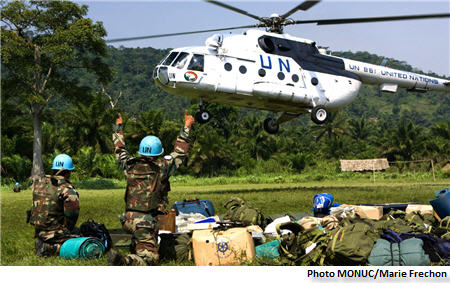 The UN's top humanitarian official has warned against a premature withdrawal of the organisation's military force from the Democratic Republic of Congo.
The Congolese government wants the UN mission to leave the troubled country by the end of August next year.
But speaking on a visit to the volatile east of the country, John Holmes said any exit strategy should be considered carefully.
He pointed out that UN troops were protecting civilians and aid agencies.
Mr Holmes, the UN's emergency relief co-ordinator, was visiting three provinces where humanitarian workers face increasingly difficult conditions.
'Avoid undue shocks'
A military campaign, supported by the UN mission, to hunt down Rwandan-Hutu militiamen sheltering in eastern DR Congo has forced tens of thousands people to flee their homes over the past few months.
Speaking on Friday, Mr Holmes said the timetable for withdrawing the peacekeepers depended on whether Congolese forces were able to replace them.
Mr Holmes, who is on a five-day visit to the country, said he was worried by the prospect of a rapid or premature withdrawal of the UN force, known as Monuc.
Any discussion of a Monuc withdrawal should not be based on arbitrary timetables, but on a guarantee that the Congolese security forces were able to take over the UN mission's role, he said.
"Everybody is aware that Monuc cannot stay forever," Mr Holmes said.
"We need to make sure that the process is based on solid benchmarks and does not lead to undue shocks of any kind, so that the situation can improve and not fall into further risks."
The central government has asked Monuc to pull out by the end of August next year, just before a presidential election.
Mr Holmes will discuss civilian protection issues with President Joseph Kabila on Monday.