Colombant repot - Download 439k


Listen to Colombant repot

Congolese are voting in their first open election in more than 40 years, in hopes of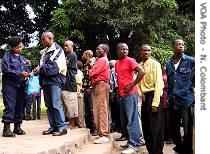 Voters waiting in line for historic poll

putting an end to years of misrule, corruption, conflict, and poverty.
Under the whizzing of helicopters many polling centers opened late, but turnout appeared substantial. Voting was slow, but orderly.
President Joseph Kabila said he had fulfilled his promise of organizing elections. He has been in power since his father, a former Rwanda-backed rebel turned president, was assassinated in 2001.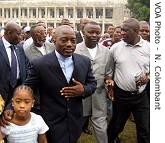 Mr. Kabila with his daughter going to vote

He voted in the Gombe neighborhood of Kinshasa, one of the few parts of the country with nicely paved roads.

"Today is the most important day in the history of the Congo since independence," said Mr. Kabila. "With the election we hope that peace and stability will come back to the Congo and with peace and stability, development, reconstruction in the Congo and the whole Central African regions and why not the continent. I am very confident."

Several hours later, near the city's Sacre Coeur church, one of his main opponents in the presidential race, former Uganda-backed rebel leader, Jean-Pierre Bemba also expressed confidence, while his supporters cheered him on.

He had a different historical perspective of the election, saying it was the most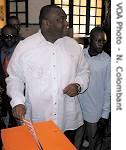 Main challenger former Uganda-backed rebel leader Jean-Pierre Bemba casts his vote
important day since he began his rebellion.
"It is a result of nine years of struggle, political struggle in my country, for a new political order in Congo. I can say that my mission is achieved, but of course now I am waiting for the support of the people of Congo to turn the page and to bring Congo to a new philosophy, a new kind of management, and governance in Congo," he said.
He said it would be almost impossible if he did not make it to a second round run-off.
Many Congolese have expressed fears that the losers of the presidential election, many of whom still have armed groups, will not accept the outcome of the election. Others have expressed fears the election will be rigged.
Two other main challengers are former central banker Pierre Pay Pay, and U.S.-trained doctor Oscar Kashala. There are more than 30 presidential candidates.
Twenty-five-million registered Congolese voters are also selecting a new 500-seat parliament from nearly 10,000 candidates.
One voter expressed hope the election would bring economic improvement in the mineral-rich, but impoverished country.
"I think it is an important day to improve the situation, we can say democracy for the first time and so on, so it is probably better to get investment, to get investment from foreign countries to improve the situation," he said.
Other voters said they were surprised at the number of candidates.
In one poor neighborhood, residents started screaming after they said they had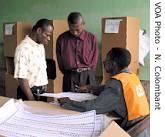 Voters getting instructions in Kinshasa

noticed a voter going to a polling center several times with different voting cards.
Nearly 50,000 national and 1,500 international observers are monitoring the vote. Newly trained police, U.N peacekeepers and rapid reaction forces from African and European countries are trying to enforce security.
Several armed groups remain active in many eastern parts of the country, while militants from one major opposition party are boycotting the process, saying preparations were inadequate. Some of their militants burned a truck carrying voting materials on the eve of the vote near the eastern city of Mbuji Mayi, where initial turnout was reported as very low.