IRIN | Published on October 22, 2006
Colombant report - Download 320k


Listen to Colombant report

In the Democratic Republic of Congo, recurrent clashes and criticism of police have marked early campaigning for the second-round post-war presidential run-off to be held October 29.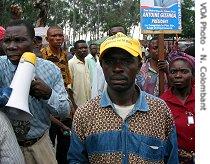 Kabila Supporters Face Trouble

Supporters of first round,third place finisher Antoine Gizenga now backing President Joseph Kabila, ran and drove away from residents in Kinshasa throwing rocks at their convoy.

One militant said their attackers were neighborhood thugs who are boycotting the election process, saying it is tilted in Mr. Kabila's favor.

Another militant said this type of disorder will not end until police and U.N peacekeepers beef up their presence.

He says there will be dead people in the streets again, if something is not done.

Clashes in August following first round results left nearly two dozen people dead in Kinshasa, mostly guards for the top two finishers Mr. Kabila, and former rebel and current vice-president, Jean-Pierre Bemba.

On October 29, there will also be voting for posts in provincial assemblies.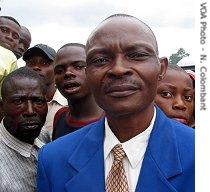 Faustin Pinda
An independent candidate, loosely allied to Mr. Kabila, Faustin Pinda, also called for a reinforcement of the police presence. He said he wants calm to reign in Kinshasa, rather than war. He says he is tired of seeing people injured and killed. He said people must accept results.
But a supporter of Mr. Bemba who looked on as the clash dissipated, Junior, accuses Mr. Kabila of militarizing the electoral process.
The elections are not going well, he says. Mr. Kabila recently appointed military governors. He charges Mr. Kabila wants to crush his rivals, and does not want peace.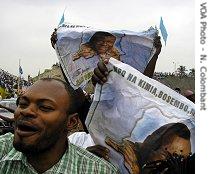 Bemba Supporters rally for their candidate
During the interview, police showed up, followed by Junior's quick disappearance. The crowd of Mr. Bemba's supporters which was growing fast said police whisked him away, showcasing what they call biased treatment of political militants.
Mr. Bemba got just 20 percent in the first round, mostly in the west, but hopes to build on support from many who took part in the boycott. Mr. Kabila, the son of a former slain coup leader, got 45 percent, mostly in the east, but has gotten support from failed candidates who did fairly well in the west.
A European special reaction force is sending additional troops from nearby Gabon to help with security. The already large but still overextended U.N. mission is asking that the European force remain beyond its scheduled departure at the end of November.