Colombant report - Download 385k


Listen to Colombant report

The U.N. mission in the Democratic Republic of Congo is urging rival candidates to denounce violence and promote discipline ahead of a runoff presidential vote October 29. Campaigning has been marked by the public absence of the two candidates and recurrent clashes between rival supporters.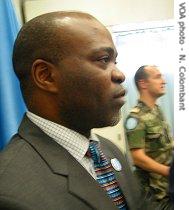 UN spokesman Jean-Tobie Okala


At a briefing from headquarters in the capital, U.N spokesman Jean-Tobie Okala read a long appeal asking President Joseph Kabila and his election rival Vice President and former rebel Jean Pierre Bemba to calm the situation.

"Basically what we tried to do today is to launch an appeal to both candidates, President Kabila and Vice President Bemba, to make sure that these coming polls will go in a very smooth way, because the will of the population is to vote in calm, in peace, so they do not want violence. So that was our main message today," said Okala. "They do not have to disappoint Congolese who have already said no to violence."

Okala expressed disappointment the two candidates have not made any recent announcements to rein in their supporters.

"Some people until now, mistake the political debate with a physical debate so they think that being a political opponent means you can resort to violence to get your idea prevailing," he said. "This is something we cannot accept."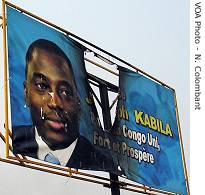 Kabila poster have been burned down
He also said after Sunday candidates must refrain from releasing their own results and declaring victory until official tallies are certified.
A European rapid reaction force helped quell fighting between rival personal security services following first round results in August. U.N. officials now say more than 40 people were killed in Kinshasa, and possibly many more.
Okala expressed surprise the two candidates have stayed away from the campaign trail in the second round, despite receiving assistance from the U.N mission, known as MONUC.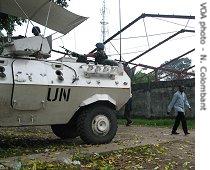 UN increases presence in Kinshasa

"MONUC made available two helicopters, we gave them to the independent electoral commission," he pointed out. "Until now, none of them has been used, so (for) their own strategy, I am not their spokesperson so I cannot tell you why they did not campaign on the field. But the campaign is ongoing. All over the country their lieutenants, people from their side are campaigning every day."
Mr. Bemba has said there are security concerns preventing him from campaigning. He says Mr. Kabila's forces tried to kill him during the August clashes.
Bemba poster
On his television stations, supporters have said they will burn down Congo if Mr. Bemba is not the winner. He got just 20 percent in the first round, to Mr. Kabila's 45 percent, but has lot of support in the west, including among many youth who say did not vote in the first round.
His supporters in Kinshasa have also warned they will go on a looting rampage if Mr. Bemba is not declared the winner. During the campaigning, they have complained of police intimidation and abuse, including incidents of torture.
These are the first open presidential elections in the mineral rich Congo following decades of brutal dictatorship, plundering of resources and years of armed conflict that pulled in half a dozen neighboring countries.