VOA News | Published on October 26, 2006
Colombant report - Download 298k


Listen to Colombant report

Former rebel leader and presidential candidate in the Democratic Republic of Congo, Jean-Pierre Bemba, has canceled a stadium rally, following violence in the capital city, Kinshasa. He is facing current president, Joseph Kabila, in Sunday's run-off election. 
A top official for Bemba's campaign team says the stadium rally will not take place Friday as initially planned.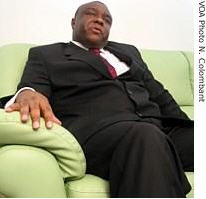 Jean-Pierre Bemba

He said smaller rallies will be organized in certain parts of the city, and there will be neighborhood political meetings. But, he said the mass rally led by Bemba has been canceled.

Earlier, the former rebel leader and one of four vice presidents in the current transitional government said he wanted to avoid unnecessary bloodshed.

"Concerning the rally, I am very concerned about security in town," said Mr. Bemba.  "I would not like blood during this rally and according to some information I have there will be some sabotage during this rally."

Violence erupted during his big rally in Kinshasa before the first round of presidential elections. Bemba's supporters clashed with police and burned several buildings.

In August, first round results were followed by fierce clashes between militant supporters of both candidates, leaving dozens dead in the streets of Kinshasa.

Bemba says this should not happen again.
Mr. Bemba's Security
"I hope that will not happen anymore because in democracy tanks and troops have no place in the street.  What I try to ask is that if there are any problems, there should be dialogue," he added.
Bemba also said his campaign director in the south-Kivu eastern region had disappeared earlier in the week.
Meanwhile, U.N. officials say a firefight between police protecting a failed first round candidate now backing Mr. Kabila, and Bemba's guard, left at least four people dead in the country's northwestern city of Gbadolite. A civilian was also reported killed.
The incident involved Nzanga Mobutu, the son of the country's former dictator, who finished fourth in the first round, and was apparently trapped for hours inside a radio station belonging to Bemba.
Supporters of Mr. Kabila
In Kinshasa, at least two people were confirmed dead Thursday after a prison riot broke out, following an escape several days before. Some of those who escaped had been convicted in the killing of Mr. Kabila's father, the former coup leader and president, Laurent Desire Kabila.
Because of security concerns, neither Bemba nor Mr. Kabila has made a campaign appearance in the run-up to Sunday's run-off, and a debate between the two candidates has been canceled."